Networking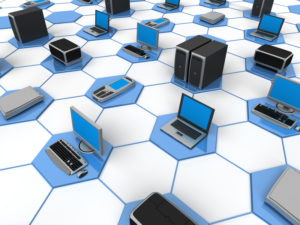 We offer complete services for network set-up, installation, monitoring, and management. Our service team takes pride in ensuring that we not only help solve problems, but also work to find preventative measures and maintain the best performance from your system.
System Updates
Virus Upates
Provides you with the latest updates, plus we will perform a system scan to ensure your system is free of infection.*
Mail System Updates
Installs all the newest patches and features.*
Proxy Server Updates
Installs all the newest patches and features.*
Microsoft Operating System Updates
Microsoft is constantly finding and updating intrusion points. Downloading and installing these patches will help guard against unauthorized system access.
Application Updates
Older versions of Counterpoint, Great Plains, Passport, and Focus become harder to support and take more service time, thereby costing you time, money, and aggravation. By maintaining your system and installing updates and new releases*, you stay current with the latest version, current with any legal regulations that have been addressed, and current with what software technicians are learning, making it easier to support you.
*Your software subscription service must be up-to-date with the software manufacturer in order to receive the latest updates, patches, and/or new features.
System Clean-up
Disk Defrag
Puts all system files in order, thereby speeding up file retrieval and increasing system performance.
Internet Files / Disk Clean-Up
Removes all unnecessary files, freeing up space on the hard drive.
System User Clean-Up
Removes former users/employees from your system, freeing up space on the server and improving system security.
Application Purge and File Maintenance
Within Counterpoint, Great Plains, Passport, RealWorld, and Focus, purging old, unused history reduces the number of records to search thru within your data files. Then file maintenance compresses the files. Together, these services improve performance and helps maintain the integrity of the information.
Application Information
To check on the latest application release or version, or if you are interested in learning more about one of the listed applications, please contact us at 802-295-6600, ext. 4 or email at info@datamann.com
System Performance
Disk Space Check
Examines the amount of free space available. A certain amount of free disk space is necessary to perform disk defrags and other system maintenance services. Disk space check may protect against lost data and time consuming system rebuilding services.
Back-Up Report
Examines the integrity of your back-up system. To increase back-up reliability, a minimum recommended back-up routine is available.
Network Diagram
Determines who's on your system and where your resources are located. This is especially helpful in planning future growth.
Scheduling Service
To schedule any of these services please contact us at 802-295-6600, ext. 6 or email dst@datamann.com
Save
Save
Save
Save
Save
Save
Save
Save