This week, I want to tell you why I asked Amy Africa to join me as one of our keynote speakers at Datamann's seminar called Who Is Looking out for your Interests? on February 19.
If you know Amy, or have ever heard her talk, you can appreciate my dilemma in writing this. Where to start? There are so many reasons I had to include Amy in this seminar. In the world of catalogs, retail and ecommerce, Amy has been part of the internet and website conversation for the past 20 years. She has spoken before hundreds of audiences at an endless number of conferences and seminars. She has her devotees and plenty of detractors too.
But there are two main reasons I asked Amy, and a minor third reason.
First is Amy's unwavering belief that the number one reason you have a website is to generate orders and sales, not to build brand or to drive customer engagement. You have a website. If you think otherwise, Amy's "delivery" of her message will soon dispel any prior doubts you had. There are drill sergeants in the Marine Corps who would tremble before Amy when she delivers a "smack down" of some inefficient website. There is no middle ground with Amy and over the years, I've learned that audience members either love her or hate her. Moreover, I've learned that Amy's advice and foresight into what drives consumers to respond is almost always right.
The second reason I asked Amy to join us is one of the same reasons I asked Kevin Hillstrom – she is independent. She has no "big data" agenda to push, or social media panaceas to sell you. She will tell you what is right and wrong with your website with no hidden agenda. She has told me that she is struggling with talking about the future (the one thing I asked her to do) because so many marketers are simply screwing up the present.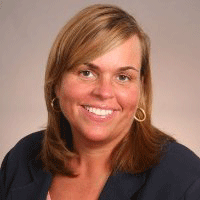 Finally, contrary to what one consultant asked me, I don't think Amy is a psychopathic axe murderer. This consultant drew that conclusion on the basis of my prior remarks that Amy "will never stab you in the back, nor take a cheap shot – you will see her coming straight at you, as she plunges her attack on your web marketing directly into your belly." On the contrary, Amy has been a windward anchor, and personal confidant for me over the past 23 years that I have known her.  She has called me up or sent me numerous stinging emails pointing out incredibly stupid mistakes I have made, or am about to make. More than once, she has saved my hide.  I have tolerated and always welcomed this from Amy because she is almost always right, and she never calls or emails without a solution to the problem she sees. That is what makes her my wartime consigliere. How could I not ask her to share her wisdom with you?
Amy referred to the combination of Africa, Hillstrom, and LaPierre as the unholy trinity. Well, we may be a motley trio, but we will give you an unbiased view of the future of catalog survival and ecommerce growth that you won't get elsewhere.
Remember the facts – our all-day seminar on Who Is Looking out for your Interests? that Datamann is sponsoring for the Vermont / New Hampshire Marketing Group, is on Thursday February 19, 2015 at the Marriott Courtyard/ Grappone Conference Center in Concord, NH.  We have mailers coming from Texas, Wisconsin, Ohio, Missouri, Indiana, Pennsylvania, Georgia and North Dakota.
If you have not yet registered, click here for the seminar registration page on the VT/NH Marketing Group's website. But you must register soon! (Concord is New Hampshire's state capital, and is only 20 minutes north of the Manchester, NH airport, which is served by all major airlines). Hotel rooms are going quickly, so make your reservation today!
If you are not already signed up for emails from this blog, click here.
by Bill LaPierre
VP – Business Intelligence and Analytics
Datamann – 800-451-4263 x235
read more
I consider myself extremely lucky to have gotten Larry Kavanagh to speak at Datamann's seminar on Analytics for Marketers, which we are sponsoring for the VT/NH Marketing Group on Thursday February 20.
Larry is one of the nation's leading experts in on-line marketing and ecommerce for mid-size companies. In his portion of the seminar, he'll show you how improving your website's conversion can be broken down into two distinct activities: cart adoption – adding an item to a cart; and cart completion – successfully checking out.
Larry does lots of testing for his clients, and lots of detailed analysis. He's going to present the analytics behind some of that testing on shopping cart adoption, the online version of "square inch analysis". He's promised me that you'll learn how to determine which products are worthy of more exposure on your site and which products are conversion death traps, and how to optimize all products to increase revenue and profits.
Moreover, he's going to illustrate how to use metrics and analytics to uncover "holes" in your checkout process, as well as how to use A/B split tests to find the most effective "patches" for your "holes", which can increase your company's web sales by 3% to 10%.
Finally, I'm going to get him to answer my question on why ecommerce people always say "conversion" instead of "response". What more could you want??
In case you have never heard Larry speak, be prepared for some awesome insight. From 1991 to 1999 Larry was the VP of Marketing and General Manager of Gardens Alive!, a large, multi-title catalog and ecommerce business. He founded D.M.insite in 2000, which at the time was one of the nation's first ecommerce platforms for mid-market companies. D.M.insite made the INC 500 list in 2006. He merged D.M.insite with Moyo Group in 2011 to form Kalio. He left Kalio last year to start his own consulting practice, Kavanagh Commerce.
The Analytics for Marketers seminar, which Datamann is sponsoring for the VT/NH Marketing Group, is on Thursday February 20, 2014 from 9 AM to 4 PM at the Marriott Courtyard / Grappone Conference Center in Concord, NH.
To register for the seminar, contact the Vermont/ New Hampshire Marketing Group.   Registration costs for this all day event are as follows:
$90 for VT/NH MG members
$125 for non-members
$100 for NEMOA members
Registrations are accepted until February 18, 2014
The fastest and easiest way to register: Go to the VT/NH MG website at www.vtnhmg.org
If you are not already signed up for emails from this blog, click here.
by Bill LaPierre
VP – Business Intelligence and Analytics
Datamann – 800-451-4263 x235
blapierre@datamann.com
read more