Which Of These Is You?
Something has changed in the catalog world – just in the past few months. Hold that thought for a minute.
The last time I had Amy Africa and Kevin Hillstrom join me for our catalog seminar (in 2016, and which sold out weeks before the event), I received an email the day after the event from an attendee that said "Nice job yesterday at your seminar – lots of thought provoking stuff. It was like you, Amy, and Kevin were speaking directly to our company – obviously everyone in the room was feeling the same pain."  The pain this person referred to was the pain of growing their catalog business, and the pain of acquiring new customers.
I received an email the other day from a blog subscriber asking me to comment on some recent changes her company made to their catalog. I offered my observations on the PDF file sent, and asked if anyone from the company would be attending our catalog seminar on April 5, as two people from this company had attended in the past.
The reader replied that she was "not planning on coming. Frankly, it sounds like it's more for traditional catalogers, which we are not." I thought that was a funny comment from someone who just asked me – a traditional catalog guy – to analyze their catalog. But, I've heard several variations on this comment since announcing the theme for this year's seminar.
The rumbling I'm hearing is that some catalogers feel they have "made the change", and are no longer "traditional catalogers". Even though they may still mail millions of catalogs annually, they feel they are multichannel-ecommerce companies because now they use Google, Facebook and retargeting ads to sell stuff as well. Then there are the companies that feel they have evolved to an even higher level because they sell on Amazon, too. (What could possibly go wrong with that?)
OK – I get it. Some of you are doing well, and you don't understand why the tone of my postings in 2018 have been so pessimistic towards catalogs. Further, you think the concept of You Must Do Something Different doesn't apply to you – it only applies to the other guy.
Here is what has changed in the catalog world – many of you no longer feel that pain in the room from 2016. You feel that you have turned the corner, and that you are no longer in need of further change. You had an acceptable 2017. November and December 2017 were absolutely great, beating projections for Cyber Week by 30%. You think you have your customer figured out, have the merchandise mix right, definitely have some unique product (at least your merchants tell you it is unique). You no longer see yourself as a cataloger. You call yourself various things – usually including the words "multichannel retailer". You see minimal outside threats to your business. You're feeling pretty good about your place in the retail arena. You're just about untouchable.
But there has also been a change for the rest of you, who feel the pain more acutely than two years ago. You feel like there's a knife in your back. You read about all the catalogs that have gone out of business (especially those here in New England) and wonder how long until your bank will no longer extend your line of credit. Sales were flat or below the prior year this past holiday season. If you are B2B, you saw a steady decline in orders in 2017, which shows no sign of changing in 2018, despite the extended growth (up until last week) of the stock market, and you feel passed by. You may not have had a sense of urgency to change going into 2017, but you have that sense of urgency now!
As I see it, those of you in that first group – those of you that feel you are untouchable – are in a more dangerous spot that those in the second group, who feel the knife in their back. The reason is that change is coming to this industry – what's left of it – very quickly.
So, should you come to our seminar on April 5th? You are the expert at your company, tell me if you are doing all of the necessary step listed below.  If you answer NO to more than one of the following questions, then you really should plan to attend. (Registration information below).
Do you have at least twice the number of products (that are not overstocks) available online for purchase than you do in your catalog?
Do you introduce all new products online first, before they appear in the catalog?
Do you keep more than 50% of your absolute best new products out of the catalog, and make them web-only?
Do more than 50% of the pages in your catalog have callouts (your URL at the bottom of the page does not count) giving specific reasons why customers should look for more products online?
When you total the hours annually spent planning changes to your web/mobile site vs your catalog, are you spending twice as much time planning the web and mobile activities?
Have you changed your major merchandise and marketing efforts to no longer revolve around catalog in-home dates?
Are you segmenting your pure web buyers (derived from PPC, SEO, social, etc.) and NOT mailing them a catalog – ever?
Have you done a hold-out test to determine the percentage of online demand that comes from existing customers if you stopped mailing them a catalog? Have you even tested the impact of eliminating catalogs to customers that shop via your website?
Are you using any of the following: neural networks, repricers, bot butlers, chatbots?
Do you have a program in place to increase your gross margins by 20%, enabling you to increase prospecting to more marginal new customer sources?
Are more than 50% of your incrementally new customers acquired with no help from a catalog, and without Google/Facebook?
Are you mailing less than 10% of your annual catalog circulation to the co-op databases?
If Amazon's fees and surcharges increased by 30%, could you walk away from your dependence on Amazon as a sales channel?
Are you creating separate product specific catalogs/mailers targeted at specific portions of your file?
Do you have that sense of urgency to change?
If you are not doing almost all of the elements listed above, there is still time to implement them, and get on the road to a more secure future. But, you must do something different.
These types of changes are what Kevin, Amy and I will be giving more details about in our presentations at Datamann's 6th Annual Catalog Seminar sponsored for the VT/NH Marketing Group.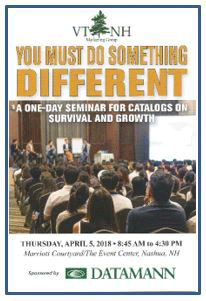 Click here if you have not registered for You Must Do Something Different.
You Must Do Something Different
Date: April 5, 2018
Nashua, NH
Agenda:
8:00 AM to 8:45 AM – Registration and Networking
8:45 AM to 10:00 AM
An Industry At A Crossroads – Bill LaPierre, Datamann
Who will survive the next five years?
Evolving from a catalog to an ecommerce company
Why "doing something different" is not what you expect
10:00 AM to 10:15 AM – Networking Break
10:15 AM to 12:30 PM (with a break from 11:15 AM to 11:30 AM)
Hard Work and Real Marketing – Kevin Hillstrom, MineThatData
Find a partner, find a buyer, do-it-yourself with low cost/no cost customer acquisition, or do-it-yourself and pay tolls
Learn to fix what you already have, and optimize its productivity
Strategies from other industries pivoting toward success and out of trouble
12:30 PM to 1:15 PM – Lunch and Networking
1:15 PM to 3:30 PM (with a break from 2:15 PM to 2:30 PM)
The Future Is Awesome – Amy Africa, Eight by Eight
AI and machine learning will be part of every business
Getting ready for concierge level service for your customers
Using "voice" as part of your sales strategy
It won't be about "mobile" in the future
3:30 PM to 3:45 PM – Networking Break
3:45 PM to 4:30 PM –
Open discussion on Doing Something Different
Your chance to ask questions and get advice from the experts
Early Registration Discount – Save $50 when you register by March 2, 2018
$135 for VT/NH Marketing Group members
$200 for non-members
Registration Cost after March 2, 2018
$185 for VT/NH Marketing Group members
$250 for non-members
Registrations accepted until April 4, 2018
The Marriott Courtyard/Event Center is located at 2200 Southwood Drive, in Nashua, NH – just off Route 3, 13 miles south of Manchester, NH, and only 45 minutes north of Boston. Special room rates of $121 are available for attendees of the seminar if they book their room with the Marriott Courtyard by March 16, 2018, but rooms at that discounted price are limited. You must call 603-880-9100 to make reservations at the discounted price, and mention your attendance at the seminar to receive the special rates, or reserve your room directly at this special link: click here to reserve your hotel room online at the special seminar price.
If you are not already signed up for emails from this blog, click here.
by Bill LaPierre
VP – Business Intelligence and Analytics
Datamann – 800-451-4263 x235