We Just Didn't Change Enough
This is a tough one to write. Two weeks ago, one of Datamann's larger catalog clients called me to say they were closing their catalog. The CEO told me that everything I had predicted about the catalog industry in this blog over the three years that he had been a reader had come true for them. His most telling comment was, "We just didn't change enough".
In deference to a client struggling with some hard issues, I'm not going to reveal the identity of this mailer. Time will do that on its own.
But I will point out how hard it is to change, because to change, typically means ignoring conventional wisdom. Within cataloging, there is a long list of "conventional wisdom" – mail the co-ops, add more pages (the postage is free!), start a loyalty program, sell on Amazon, do remarketing, trust your vendors.
Conventional wisdom will bite you most frequently when working with "experts", because all the experts will reassure you and each other that the old ways are still valid. That is why some conferences are so popular among vendors – the conference itself is a reinforcement of conventional wisdom. They feel safe in that environment, because none of the attendees or speakers are voicing messages that run counter to conventional wisdom.
Datamann does have some clients that are doing well in the catalog arena. But their success was not automatic, nor did it come easy or overnight. It came about because of upper management and owners that saw that they could no longer follow conventional wisdom. Moreover, they saw that they had to dig in, and slog through some hard changes.
Most catalogs have not yet passed into that threshold of success. They have yet to develop a "change" mind-set or a "growth" mind-set because they know it will be a hard path to hike. They want a quick path to bliss in the midst of shrinking catalog co-op database universes, postal increases, and Amazon's onslaught. But that quick path is not there. Therefore, many catalogs remain mired in mediocrity. People – as well as companies, managers, and owners – run out of steam, and while in the past a catalog could "coast", now that is no longer an option. Coasting will lead to doom. The results are tough to take.
You already know that change cannot be mandated. It must come because of a "movement", where people feel optimistic, have trust, have conviction, and become creative.
Datamann works with many catalogs based in the UK, mailing here in the US. The marketing folks from those companies usually come to New York City for our meetings. They think NYC is representative of America. I tell them to get out of their Manhattan bubble, and see some cities and towns with funny names like Nacogdoches, Cucamonga, Belchertown, and Bugtussle. Seeing a broader view of America will help them get a broader view of the US market and more opportunities.
Metaphorically, you must do the same. You must start to explore unconventional solutions, you must be ready for discomfort. Divergent and conflicting opinions must be more than tolerated – they must be the course for everyone.
And remember, show a little humility. We are in uncharted territory, and no one has all the answers.
Where to start:
In case you had not figure this out, today's posting is another pitch to get you to register for Datamann's 6th Annual Catalog Seminar sponsored for the VT/NH Marketing Group. The three speakers will show you how to change your company, and what the future will be once you change. You know you can't stay the way you are, so register to see how positive change can be.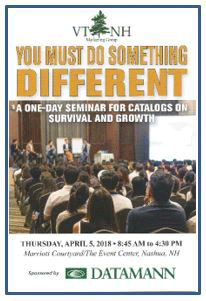 Click here if you have not registered for You Must Do Something Different.
You Must Do Something Different
Date: April 5, 2018
Location: Nashua, NH
Early Registration Discount – Save $50 when you register by March 2, 2018
$135 for VT/NH Marketing Group members
$200 for non-members
Registration Cost after March 2, 2018
$185 for VT/NH Marketing Group members
$250 for non-members
Registrations accepted until April 4, 2018
The Marriott Courtyard/Event Center is located at 2200 Southwood Drive, in Nashua, NH – just off Route 3, 13 miles south of Manchester, NH, and only 45 minutes north of Boston. Special room rates of $121 are available for attendees of the seminar if they book their room with the Marriott Courtyard by March 16, 2018, but rooms at that discounted price are limited. You must call 603-880-9100 to make reservations at the discounted price, and mention your attendance at the seminar to receive the special rates, or reserve your room directly at this special link: click here to reserve your hotel room online at the special seminar price.
Go Patriots!
If you are not already signed up for emails from this blog, click here.
by Bill LaPierre
VP – Business Intelligence and Analytics
Datamann – 800-451-4263 x235