You Must Do Something Different
For the past several months, in almost every blog posting, I have included the comment that you must do something different. I was building up to something.
Six years ago, when Datamann first began hosting our annual Catalog Seminar (which we host for the Vermont/New Hampshire Marketing Group), my focus was basically on more of the same – be a better merchant, design a better catalog, circulate to better names.
The last few years, I've focused on more "higher level" topics, including who can you trust in this industry, analytics, and what metrics do you need to grow.
The second half of 2017 showed me that even those topics were no longer relevant for many of you. I've seen a dramatic shift in the past six months. Companies are finally looking at their business not as a catalog company, but as something else.
What that "something else" is remains different for each of you. And that is OK, because each of you is finally catching on to the fact that you must do something different. For some of you, it means becoming more of an ecommerce company. For some, it means becoming a wholesaler. Some of you are still trying to determine where and how you need to evolve.
You Must Do Something Different is the focus for this year's Catalog Seminar, scheduled for Thursday April 5, 2018 in Nashua, NH. This event has become the largest single-day catalog event in the country.
The Irony:
OK – let's address the irony of this event right up front. I'm telling you that you must do something different, yet I'm having the same three speakers that I've had three of the last four years. There is a reason.
Amy Africa and Kevin Hillstrom will not be selling you anything. They are not "platinum" sponsors of the event, entitled to give a 30-minute talk on how the co-op databases are adapting to Amazon.
Amy and Kevin are two of the only people that I trust to give you an unbiased, unvarnished view of what is truly happening in this industry, and what you need to do to save your company.
There won't be discussions on 64 vs 68 pages, matte or glossy paper, pop-ups or guest check outs – as Kevin has pointed out in his blog, those days have long since passed. Instead, let's discuss what happens when the co-op databases disappear. Let's discuss what happens when your catalog is losing so much money, that no one wants to buy it when you decide to try and sell.
Let's discuss this progression within the catalog industry: when I first started in this business, companies received far more orders through the mail than over the phone. Then as catalogs began to adopt 800 numbers, it was easier for the customer to order over the phone. And, then it became easier for the customer to order on the internet. It had nothing to do with the customer being a "multi-channel" buyer. It was simply easier. Now, the customer has switched to ordering over their iPhone, as again, it is easier than a laptop. But what is easier than an iPhone? Just saying "Alexa, ordering me a new pair of jeans in my size". That is part of your future – are you ready to deal with it? This is why I asked Amy and Kevin to join us.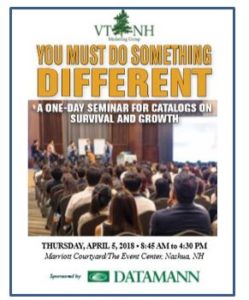 The Hard Road Ahead
Most of you stopped going to conferences long ago. The reasons are varied. For the most part, the content was no longer relevant. You got tired of hearing yet another CEO tell you how they miss-judged their customers, but then through that CEO's miraculous intervention, the company was turned around and saved. Or, you got tired of hearing vendors drone on about how their shiny new object was the key to your future – sign on the dotted line, please.
This one-day seminar is different. There is no selling. There are no "knight in shining armor" stories. There is advice that comes with a promise of much hard work on your part. We will challenge you for you must change. The consumer is in control now, and your profits are being squeezed. There is no other option. You can either stay in the bunker or you can jump out there and try to change. And not to change is criminal.
Finally, I'm going to let you in on two personal observations about my co-presenters:
In my opinion, Amy Africa was the first Jedi. Almost 25 years ago, she told me that the internet was going to replace catalogs. I didn't listen. Thankfully, she has not held this flaw in my vision against me (well, not too much). Instead, she has helped literally thousands of companies use the web to grow, while always acknowledging her traditional direct marketing beginnings. As a former President of the VT/NH Marketing Group, she also generously speaks at this event, and I'm delighted to welcome her back.
For the past three years, Kevin has given me the most important 30 minutes of the year. The night before the seminar, Datamann hosts a dinner for our clients that arrive early. I meet Kevin 30 minutes prior to the start of that dinner, simply for a chance to chat with him. He and I never talk throughout the rest of the year, and we only occasionally exchange emails. In my opinion, his blog and the topics he addresses is one of the most valuable resources this industry has. It is a privilege to have access to him for those 30 minutes each year, especially given that he has taken a red-eye flight from the west coast to join us.
To register for the seminar,  click here  to visit the VT/NH Marketing Group's website.
Early Registration Discount – Save $50 when you register by March 2, 2018
$135 for VT/NH Marketing Group members
$200 for non-members
Registration Cost after March 2, 2018
$185 for VT/NH Marketing Group members
$250 for non-members
Registrations accepted until April 4, 2018
The Marriott Courtyard/Event Center is located at 2200 Southwood Drive, in Nashua, NH – just off Route 3, 13 miles south of Manchester, NH, and only 45 minutes north of Boston. Special room rates of $121 are available for attendees of the seminar if they book their room with the Marriott Courtyard by March 16, 2018, but rooms at that discounted price are limited. You must call 603-880-9100 to make reservations at the discounted price, and mention your attendance at the seminar to receive the special rates, or reserve your room directly at this special link: click here to reserve your hotel room online at the special seminar price.
See you on April 5.
If you are not already signed up for emails from this blog, click here.
by Bill LaPierre
VP – Business Intelligence and Analytics
Datamann – 800-451-4263 x235