Gone Thrice and Final Catalog 2017 Holiday Observations
It Will Probably Never Be Better Than Right Now
As we close out the 2017 holiday shopping season, I'm going to let the Wall Street retail experts report on closing sales nationwide. Some of you have told me that you've been working in the warehouse helping to pick, pack and ship, so hopefully that's a good sign. Most of you have reported that you are just barely going to make plan this season.
From a national economy perspective, this holiday season has been ideal. The stock market is up in record territory, consumer confidence is up, there are no national distractions like an election, etc. So, here is what I want you to consider – you will probably never have another 4th quarter as strong nationally as 2017, when all of the stars were aligned for strong sales. How did you fare? Do you think it is going to get any easier in 2018?
My Wife Is Pissed
Last Sunday night, my wife yelled at me, "In your next blog, you can write that your wife is pissed! Everything I wanted to order from these catalogs was out of stock in my size, in the colors I wanted. Why send me a 'last minute specials' catalog if nothing is available? And they all wonder why consumers keep looking elsewhere to shop!"
I don't need to add commentary here. These are the immediate reflections of a consumer reacting to your sales efforts. I'm not going to name the catalogs she was trying to buy from, but I will report that she is moving more of her purchasers to non-catalog ecommerce sites.
Gone Thrice
I've come to the conclusion that readers of this blog have a morbid curiosity about the catalog industry. I base this observation on what postings you choose to open when the only clue you have about the content is the email subject line. The subject lines with the highest open rates are those that suggest some type of pending doom, or bad news.
Since July 1, the three blog postings I've written with the highest open rate are:
Ted & Muffy – A Sad and Cautionary Catalog Tale – August 6
And so, it is with a sad heart that I report the shutting down of another catalog, the Lady Grace bra catalog. It is sad to see another long-time New England-based catalog disappear – the third one to shut down since early September.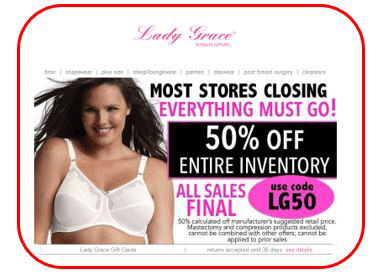 Back in 2013, I wrote a posting called Bra Catalogs – More Than Storage And Organization. If you Google the term "bra catalogs" (make sure it is plural), you will usually find my posting popping up at either the bottom of the first page or somewhere in the second page of Google search results. Over the years, this one article has been the #1 source of traffic to the Datamann website. It is obviously not catalog professionals that are clicking through, but consumers. And oddly enough, I can tell from Google Analytics, the majority of them take the time to read the article.
The Lady Grace catalog was the inspiration for my reference to storage and organization. It was a catalog that never changed with the times. In 2015, they finally featured a bra on the front cover that was not white. But, my comments about that catalog from 2012 predicted what would happen in 2017 – they simply made no effort to change. This is an example of why you must do something different.
The Amazon Leviathan
A reader recently wrote to share an unusual story. He had ordered a very expensive ($1,200) and very heavy piece of power equipment from Amazon for his garage. But once he received it, he realized he needed a different version. I won't bore you with all the details of the order, but basically Amazon told him (rather cheerfully) that they would refund his money including shipping, but that the piece of equipment was non-returnable. The reader wrote me to ask what I thought of this.
Here is my take: Amazon generated $136 billion dollars in sales in 2016. I expect they will hit around $166 billion in 2017. Jeff Bezos is now the richest person in the world. They have reached this level by focusing on growth and sales. They are not worried about returns, even a $1,200 product, especially one that weighs over 125 pounds. It is more efficient for them to write it off.
You can't compete against that.
The last time Frank Oliver spoke at our Catalog Seminar, he spoke of the online Leviathans, eating all the little fish. However, it is no longer the big fish eating the small fish. It is now the fast fish eating the slow fish. You can't waste your precious time trying to "change your brand" unless that change involves unique, proprietary products. When Amazon can write-off a $1,200 product because it is easier for them to just "move on", no one is going to care about your efforts to create a brand story.
Your "brand" is not your catalog. It is not your website. Your brand is what you do every day, and that is primarily sell stuff. The stuff you sell, the products that define your brand, had better be good, priced fairly, and be unique, otherwise you are going to be a little fish that gets eaten by the really fast big fish.
With the latest Star Wars movie having just opened, there is no better time for a reminder about the importance of merchandise, than watching this short clip from Mel Brook's epic spoof Space Balls: May The Schwartz Be With You. It's all about merchandising.
As you finish your celebration of Hanukkah, or get ready to celebrate Christmas, take some time to relax because 2018 is going to be an even bigger challenge.
If you are not already signed up for emails from this blog, click here.
by Bill LaPierre
VP – Business Intelligence and Analytics
Datamann – 800-451-4263 x235