Engagement
This is a sample size of one – so take these observations with some skepticism.
I wrote in last week's posting that I had changed my view on "engagement". Here's what changed it.
For years, vendors and other media "experts" have been pushing "engagement" as a way to acquire customers.  "You've got to be engaged with your customers!"
I always thought that was a bunch of bunk*. I believed that saying you had engagement with your customers was just a fancy way of saying that you stunk at generating orders and sales. It was like proclaiming that an event was successful because it generated tons of PR, but in reality, was a failure because no one showed up.
Hard orders and sales are what I always encourage clients to focus on – and to a VERY LARGE degree, that is what they must always be focused on. To old school mailers with customers prone to placing orders on the phone, nothing beats the feeling of obtaining a 10% response to a catalog mailing.
But over the past few years, I've watched the changing shopping habits of my wife Shari. First, let me point out that Shari is ten years younger than me – which at times seems like a huge generational gap, especially when it comes to consumer behavior. Second, she is not as stubborn as I am when it comes to adapting to new technology. Third, about four years ago, Shari got REALLY hooked on mountain biking.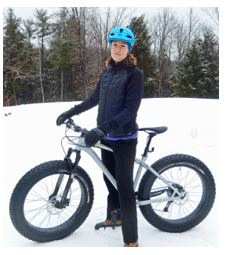 At first, I tried keeping up with her. But I'm more of a "road bike on a paved rail trail" bike rider. I find little enjoyment in weaving through trees and over rocks through the woods the way she does. You go girl!
In addition to the actual riding, she joined several mountain biking clubs/groups in the area of the trails she rides. All of these groups are active on social media. This is where the discussions of trail conditions occurs – not on the group's own website, but on their Facebook pages. Plus, I have learned that people who are really into mountain biking, love to share their rides. There are numerous apps with which you can "record" your ride, which can then be posted to Facebook, to show that you went over a certain trail, at a certain time, and that it was part of a 14-mile ride that day. It's the modern-day version of Show & Tell. This is one example of social media engagement. Maybe not the 2 million Facebook followers I mentioned in last week's blog, but these bikers are just as motivated, just as inspired, and just as "engaged" when it comes to sharing news about their latest ride.
Shari's fellow mountain bike enthusiasts – who are worldwide, not just in New Hampshire where we live – also share equipment and apparel ideas. She is constantly posting photos of products she has found online to Pinterest and Instagram. She has purchased products from new vendors – some of them very small niche companies – that others have posted to those sites.
The vendors she purchases from are part of this "engaged mountain biker" community. They are not necessarily the biggest "bike" brands. This is how the new, smaller niche players are grabbing attention, grabbing sales and acquiring customers. The biggest brands often stink at engagement. Those bigger brands are satisfied with buying "disruptive" Facebook ads (because it "scales" faster) rather than creating content with which readers will actually take the time to read.
The little guys grab a few percentage points of the big guy's business each year, and pretty soon, after 5 years, the little guy is on a roll, and the big guy is trending down and can't figure out how to stop the slide.
Since we live in a tiny town in rural New England, I think many readers of this blog envision that we probably have a hand-crank telephone. Not so. We have a fairly fast DSL connection, and wi-fi throughout the house. My wife uses her phone for these social media interactions about 90% of the time, and only uses her laptop about 10% of the time. She never phones in an order, and except for my stash of Elvis stamps, we have no other stamps in the house with which to mail in an order.  Unless your customer demographic lives in a nursing home, this is the way of the modern consumer, with more emphasis on engagement and use of mobile the younger you go.
As I said, this is a sample size of one. But, you probably know consumers just like Shari, or you are one too. We know lots of households that have given up their land line. We have never had cable TV (not available in our town because you need at least 10 people/mile) so we are not surprised that people are giving up cable and discovering that you can live without it, because they stream Netflix and Hulu when they want to watch TV. Technology changes consumer behavior, and no amount of cries of "print is not dead" is going to erase that new behavior.
Shari will still occasionally look at a catalog. Since we get hundreds of them – including every women's apparel catalog – she has a huge selection from which to pick coming to our house every week.  But when I'm sorting the mail on the kitchen counter each night and ask "do you want to look at these new Talbots, Lands' End, Athleta catalogs?", she often says "no, I can check them out online", which means with her phone.
I have come to realize that engagement is not just about having a mobile presence. It is about having content that the reader wants and craves. It is also NOT a panacea for low catalog response rates. It will not and cannot be the sole avenue of sales and customer acquisition for your company – but it does work, and must be acknowledged as something that you must play a role in, if it is appropriate for you. I can get engaged with a baking site because I love to bake bread in the winter.  I'd have a hard time getting engaged with a site that sells keyboards, even though I use one daily.
Bear this other thought in mind. You cannot expect "engagement" to just happen. It is hard work. Maintaining this blog on weekly basis is no picnic – but I'm keeping you engaged. It is also something which is difficult to "hire". You can hire Datamann to build a database, do your merge and matchback, and you can even hire me to do your circ plan. It's not as easy to find an "agency" that will build you engagement. Five years ago, I never thought I'd be saying this, but in my opinion, companies in the future will be farming out their circ planning to people like me, and hiring "social media engagement" specialists in-house.
What fun times we are in…
*Instead of using the word bunk in the fourth paragraph, I was going to use a different word. But I was reminded of a story about President Harry Truman. In 1948, when Truman was running for re-election, he kept referring to the Republican platform as "manure". His aides did not think this was dignified for the President to be saying. So, they spoke to Bess, the President's wife, and asked her to get him to change his terminology. She replied "Boys, it's taken me 40 years to get him to call it manure."
If you are not already signed up for emails from this blog, click here.
by Bill LaPierre
VP – Business Intelligence and Analytics
Datamann – 800-451-4263 x235