Gone
This one hits home, mainly because I feel like I'm writing an obituary.
I learned earlier this week that Country Curtains, a long-time stalwart of the catalog industry in New England, is most likely closing by the end of the year. Click here for details from a story in the local news: Berkshire Eagle News.
Country Curtains was my client for many years when I worked for Millard Group. The folks that ran the company back then for the Fitzpatrick family – the founders and owners of the company – always treated me with the greatest respect whenever I visited. They were always so polite and circumspect, and were some of the few clients that always wore a tie and jacket to meetings, which I reciprocated. I appreciated their courtesy.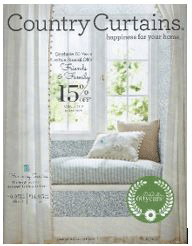 The company is located in a modern building in a tiny town in the Berkshires of western Massachusetts. The furnishings inside have a country look and charm, although I must say, the wooden chairs around their conference table must have come from the Salem Witch trials – they were the most uncomfortable things to sit on.
And now they are gone.  The newspaper account reports that they were losing millions over the past few years, and that they could not keep up with online competition. I'm sure that is part of the story, as are many things unique to the management of the company that we will never know about. Two members of their Board of Directors – Peter Rice, founder of Plow & Hearth and Ben Perez, former owner of the Millard Group, were two of my catalog mentors, and were both talented catalogers. I'm sure they found the decision to recommend closing the company a bitter pill to swallow.
From the sounds of it, every venture capital company and catalog conglomerate in the industry has inspected Country Curtains recently as a potential acquisition. But after kicking the tires, no one saw any – or enough – value in the company to acquire it. No amount of postage savings, retargeting, co-op optimization, personal printing, or enhanced branding was going to turn this situation around. That's a sobering reflection on the state of the catalog industry.
Country Curtains tried several times over the years to shed their "country" look and develop a more modern, fashionable catalog. The first was about 15 years ago with a catalog called Jane, an urbane version of the core catalog. The most recent was Prospect and Vine, which only mailed once a few years ago. Similar to the core catalog, these other titles always stuck to curtains and other "window treatments", just with a more contemporary look. They dabbled with a few home décor items, but never enough to get their feet wet.
Country as a decorating theme died out years ago. One could argue that Country Curtains was slow to adapt to that decorating change. One could argue that they were slow to adopt the same shipping speed as  3 Day Blinds and other online competitors.
But, as an outsider looking in, I see their biggest problem as having never developed a business beyond curtains. They knew curtains, they stuck with them. Some of the designs and patterns where in the book for years. And as much as the creative team would probably want to argue this point – the catalog never changed creatively. Maybe there is only so much you can do with "window treatments", just like there is only so much you can do with water bottles in a B2B catalog – but Country Curtains stuck with a design format and product niche too long.
It is sad to see a great catalog title – one that would easily take a premier spot in a "Catalog of Hall of Fame" – disappear and slip beneath the waves. It is equally sad for the individuals whose jobs are impacted by this move, as well as the local economy. Yet, as someone who weathered the closing of the Brookstone headquarters 24 years ago (has really been that long?) and the loss of 100+ jobs with the relocation of our warehouse 1,500 miles away, everyone that was impacted eventually found new employment.
If you are not already signed up for emails from this blog, click here.
by Bill LaPierre
VP – Business Intelligence and Analytics
Datamann – 800-451-4263 x235