Going Back To School
Let me be clear right up front – most B2B catalogs make no effort to be efficient, generally because they don't need to be. But a day of reckoning is coming.
Now that school is back in session, I want to take a timely look at an educational catalog I received over the summer. I received this catalog because they used one of the prospect mailing lists on which I am a seed name.
I know that many teachers use their personal funds to purchase school supplies for their classrooms. Many educational catalogs are targeted directly at the teacher and homeschoolers, who want to get additional/supplemental resources for their classroom, which the local school district may or may not supply.
I have documented several times in the past year how many consumer catalogs are moving toward smaller page counts, smaller formats – or no catalog at all – in an effort to reduce costs and drive more traffic to their website. The consumer catalogs know they are in a survival struggle, and are taking the necessary evasive actions.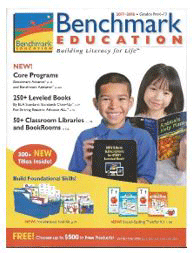 However, B2B catalogs still believe that "if you don't show it, you can't see it." I received several other similar educational catalogs this summer, which all shared the same characteristics, but I'm going to highlight The Benchmark Educational catalog, which is 306 pages! Almost every spread is the same – just pages of books or booklets that aid/encourage reading and learning. Maybe teachers find the catalog exhilarating, but to me, it is incredibly boring, since every spread looks alike.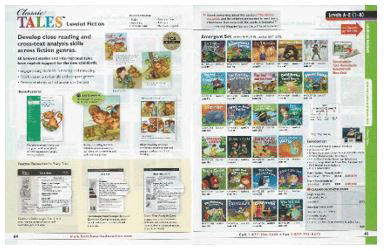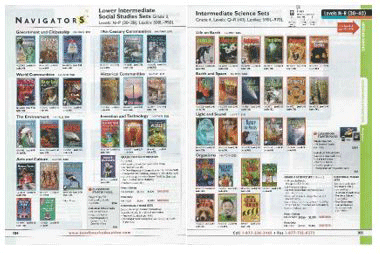 But here is the bigger problem. There are literally thousands of SKUs represented and every single one is photographed and shown. Nothing is line listed, and no effort is made to promote the idea to "check out our full assortment online".
I know why every product is shown – Benchmark Education develops all their own products. The creator of each book/booklet obviously believes their products are just as great as every other set of books in the catalog. Therefore, the Creative Director responsible for designing and creating this catalog could never not show a product, as that would be an affront to the creator, no matter how poor a seller that product might be. In my opinion, this catalog is yet another final vestige of communism, socialism and Marxism – every product, no matter how poorly it may sell, gets the same treatment and exposure as every other product.
Just add more pages to accommodate more products. Make no effort to be efficient, selective, or make optimal use of the company website.
But here is the truly ironic part. Benchmark devotes a whole spread right at the beginning of the catalog touting that many of their products are available "digitally", through "One Portal", compatible with all your devices. The company has met the 21st century with their products, and recognized that students need online access to their learning aids. But, they have yet to acknowledge that the customer – the teachers – are online shoppers as well. Instead, they force them to hunt through 300+ pages of print.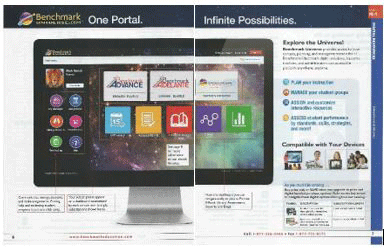 The day of reckoning is coming for catalogs like this. Sure, because Benchmark produces their own material, they probably have great margins. Their giant 300+ page catalog is probably very profitable. But, imagine if they cut the book to half the size, and mailed it twice?
I'm sure they argue internally that at 300 pages, their catalog is a resource that gets kept throughout the year. And since I'm not a customer, I don't know if they send periodic smaller page count books to their customers, which are more targeted. But even B2B companies with great margins will reach a point when they need to become efficient, cut pages, and plow the savings into more prospecting for new customers. And the new prospecting is doubtful to be accomplished by mailing more catalogs.
If you are not already signed up for emails from this blog, click here.
by Bill LaPierre
VP – Business Intelligence and Analytics
Datamann – 800-451-4263 x235