Early Fall 2017 Catalog Observations
Optimism:
I began making notes for this Labor Day posting in early August. At the time, I was going to report there has been a turnaround in response – many clients and mailers are reporting they are doing better. June and July were strong. We have one high-end client that is reporting they are 20% up in demand. Several clients are planning modest increases in circulation for holiday.
Why? In my opinion, since the election, the stock market has just kept climbing. Every month, when your baby boomer customers get their 401K and other retirement account statements, and see that they just made another $2,000, or $6,000 in the past month, suddenly they start thinking that maybe it would be OK to buy that new coat, or new shoes.
Then Harvey hit last week. Although the storm itself will curtail response from the Houston area for at least the next few months, I don't think the rest of the country stopped long enough to watch what was happening in Texas to cause a significant drop in response to catalogs in the mail. Of course, there's always another national distraction just waiting to happen – Irma could pose a problem in a few days, as could our friend in North Korea. You just never know.
But there is one tangible impact from Harvey which may become a factor to response. I fueled up my truck last Thursday night at $2.28/gallon.  Two hours later when I drove by the same gas station, the price had jumped to $2.60, and I saw a few places over the weekend at $2.70. But, even with this 15% increase in gas prices, I don't think it will impact response too much. (Yes, I know my readers in the UK are shaking their heads in disbelief that we might even consider this a problem.)
Assuming that we have no further national distractions this fall – which appears doubtful – I'm feeling pretty good about response rates for this Fall/Holiday season, especially for the higher end offers.
Optimism for Whom?
Several times this year, I've written postings that paint what I consider a realistic picture of the future of the catalog industry, which as I have pointed out, is not good. The purpose of this blog is to offer some advice, some commentary, some observations and some truths about the catalog industry. You won't get a realistic view of the industry from what is left of the direct marketing trade publications, because they are dependent on the few remaining advertisers that bother to run ads. You won't get a realistic view from the few conferences left (except the Datamann catalog seminar in April) because they are dependent on the sponsors that underwrite the conference, and therefore dictate the editorial content. There is a sharp dissonance in what we are told is happening and what is really happening.
And here is why. The vendors in this industry have a responsibility to their shareholders to keep you renting names and printing catalogs. They do not have a responsibility to you as a customer. They will always steer you in the direction most advantageous to their shareholders. The clients that work with me here at Datamann know that is not how I operate.
But the most important goal of this blog is to offer optimism to the catalog industry. That optimism does not necessarily mean optimism for all players in the catalog industry. In some cases, it can be downright pessimistic for some folks in the industry. My goal with this blog is not to bring the catalog industry to its knees – it is to bring it to its senses. If catalogers are to survive, they have to evolve into other types of companies – a combination of ecommerce, mobile and traditional catalogs, as well as develop new methods of selling stuff and acquiring customers of which we have not yet thought about or invented.
But here are three signs that some of you "get it". You understand that you must change.
#1 – Holdout Panels:
Kevin Hillstrom has for at least the last 10 years been saying the only true way to measure the impact of your catalog is with a "holdout" panel, which measures the response from names not mailed your catalog to determine the amount of sales generated organically, without aid of a catalog. The long-term impact to your profits of knowing this number is huge. But, so is the short-term impact to your sales – and that is why most of you don't do a holdout test.
Datamann is working with five new catalog launches this fall – all of which have existing websites, and existing customers. Four of the five are doing holdout tests. They are not assuming that the catalog will drive sales – they want to prove the catalog will drive incremental sales. Why aren't the rest of you doing similar tests?
#2 – No Catalog At All:
I received the six-panel brochure below from Ugly Dog Hunting company last week. There are no products for sale – only photos of hunters with their dogs. This is admittedly a small company from Vermont where Datamann is located.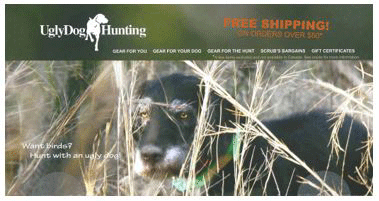 They announced inside that there would be no catalog this year, just this flyer. And they went on to give a number of reasons why you should check out their website. The trade-off was this: "We know many customers like flipping through the catalog, but by going completely digital, we save a ton of money that keeps the product costs down and flexibility up. It also allows us to offer Free Shipping on orders over $50."
I know nothing about this company – so this could be the last act of desperate owner. But, giving up a catalog in order to offer free shipping seems like a logical way to be in the arena with Amazon. He may have to send the brochure every year, in order to remind customers he's still there. But at least he is doing something different – have you tried something similar?
#3 – The Strong Webdriver:
OK – You dismissed the above example from Ugly Dog because they are small, and extremely specialized.  You say it won't work for you. So, let's look at a mainstream cataloger like Athleta. My wife was reading it this morning and said "every spread in here is a web driver". She's been paying attention to what I've been saying for 6+ years, which is that your website must be stronger than your catalog, and the catalog must drive customers to your website.
In Athleta's case, they have big photos which feature the product – and actually show the entire product (which many of you still don't do) – with minimal copy. They give the SKU number and price, but clearly, they want you to go online to see the full range of sizes, colors and styles.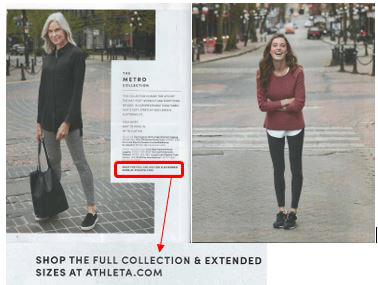 In the "old days" we would have called this a retail driver – get the consumer interested, and drive them into the store. And of course, Athleta has stores, so the skeptical among you will call this catalog a retail driver as well.
In my opinion, this is different in that it is driving the consumer to the website (with no mention of stores), and goes well beyond simply having their URL at the bottom of the page, which is what most of you think qualifies as a web driver.
Plus, Athleta has the courage to show models of all shapes, sizes and age. They are selling reality.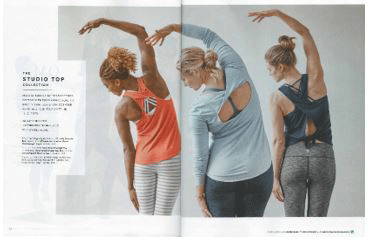 It's a new game with a new type of consumers and a new reality. Are you ready to play?
If you are not already signed up for emails from this blog, click here.
by Bill LaPierre
VP – Business Intelligence and Analytics
Datamann – 800-451-4263 x235