Ted & Muffy – A Sad and Cautionary Catalog Tale
Most of you have an obsession with youth. You believe that the solution to your response problem is to appeal to a younger audience with your catalog. You have the 65-year-old woman in your back pocket, but you struggle to get her 35-year-old daughter to even look at you, let alone place an order. It is even worse if you appeal to a 45-year old, and you are attempting to acquire a 22-year old customer.
I've mentioned many times before that Datamann works with a number of UK-based catalogs mailing here in the US. They were all brought to us by a consultant with whom we work, who is based in London.
One of those companies was Duo Boots. Prior to 2015, they had a great catalog of nothing but women's fashion boots, knee length and thigh length. These all-leather boots are handmade in England, and individually fitted to your foot and calf measurements.
Cool products, well made, great story and delightful catalog. For a fashion catalog, it did not stray from focusing on the products, the beauty of the products, or the craftsmanship of the boots. I'm usually not a big fan of editorial content in a catalog, but in their case, I thought it was well done. The book had a few design flaws (too much knock-out type), but in general, I loved their catalog.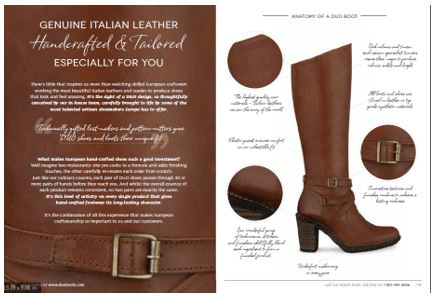 Then in the fall of 2015, the Art Director sent me PDFs to review for the coming Fall season. They were repositioning the catalog to go after a younger audience. And, they were changing the catalog name to "Ted & Muffy – Fairytale Fitters".
What? 
Below are a few of the spreads from that catalog in 2015.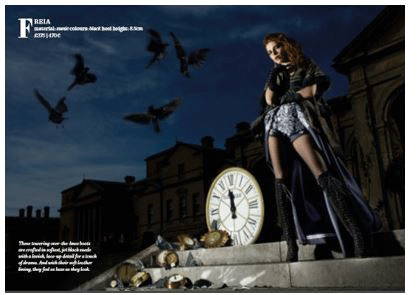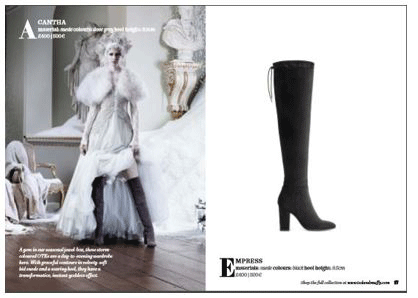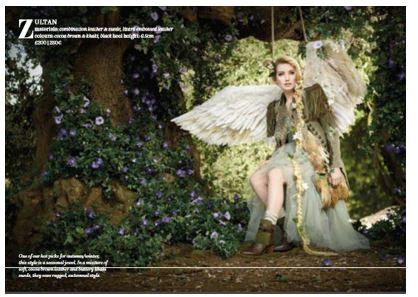 I pleaded with the Art Director not to go in this direction. The consultant in London pleaded with them. Then we both begged them not to do it. We knew what the consequences were going to be. No one listened. In their mind, we were two old guys that did not understand how to appeal to the intended younger audience.
Aside from the totally bizarre creative direction, I was also concerned with the decrease in product density and a significant price increase. In addition, the products themselves were changing, with more "colored" boots.
The catalog mailed, and results, as you would expect, tanked. In 2016, they toned down the fairy tale aspect, and focused more on the boots, but still stuck with the new name of Ted & Muffy.
Sadly, things did not go well, and we learned earlier this year that the company had been placed under the administration of the bank, which luckily – and rather quickly – found new owners, that are keeping the business alive in the UK.
I'm sure there were many factors which led to the company's downfall. The odd creative style is the most visible evidence of how the catalog drifted in a direction that alienated not only existing customers, but prospects as well. But pricing, product density, and overly trendy merchandise all contributed.
The point is this – it is really difficult to take an existing brand, especially one that is doing reasonably well (and they were doing well, at least here in the US), and think that you can acquire a totally different demographic by changing the creative, the mailing list and even the merchandise. If you are going to do all that, it's probably better to just start a new title, and protect the core business.
I received the email below a few weeks ago. Duo Boots is back. Ted & Muffy, at least the name and the funky styles are gone. The new owners cannot be held accountable for the mistakes of the past, and I wish them well with the business.
Let the catalog brand positioning lesson of Ted & Muffy be a cautionary tale to any of you who are thinking that you can wave a magic wand over your catalog and suddenly get a younger consumer to be your new customer. It ain't going to happen.
If you are not already signed up for emails from this blog, click here.
by Bill LaPierre
VP – Business Intelligence and Analytics
Datamann – 800-451-4263 x235