Mid-Summer 2017 Catalog Observations
It's the end of July, and you've almost finished paginating your Holiday catalog. It's not going to mail for another two, maybe three months, and there are not many changes you can make to it now.
That's ok, because it isn't your catalog which you should be changing. It's your website that you need to work on.
Beyond The Upsell:
When I worked at Brookstone in the 1990s, we spent a lot of time coming up with just the right products for our "telephone upsell" list. You have to remember, this was before the internet, when 50% of our orders came in over the phone. At the end of the order, the CSR would ask the customer if they wanted to hear our list of daily specials, which always included a quart of maple syrup. We argued endlessly over what was the best way to spiff the CSRs for the upsell effort. We argued whether the "specials" should be good products, or overstocks we were trying to get rid of.
Most of you have adopted a variation of upsells on your website with features such as "Customers who bought this product, also liked these products…."
There is nothing special in the list below from FineArtAmerica.com. They take the basic product I was searching for (a poster of Napoleon Crossing the Alps), and show it to me in a variety of options such as a canvas painting, acrylic print, etc. In 2017, you expect different options like this for a poster/print/photo.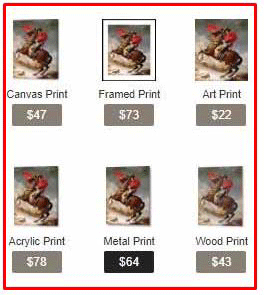 But further down, you can see they offer this image of Napoleon as a shower curtain, pillow, phone case, coffee mug.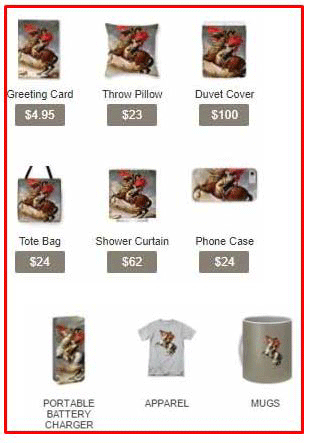 Lots of you with gift catalogs spend an inordinate amount of time finding/developing new products with witty sayings, or cute images, like a smiling cat, or a mug that says "You Are An Amazing Woman". But you squander the opportunity to really drive sales for that product because you think only in terms of ONE option for that product.
I hear many of you that sell products which are "nice to have" complain that you depend on consumers looking through your catalog to "discover" all the great new products you have. The future of catalog/ecommerce is going to belong to the companies who can capitalize on taking a great product, and turning it into 100 different options. Consumers will shop the sites where they know they have the most options. That's why I love Cafe Press – contrary to what catalogers tell me – that "no one browses a gift website!", I do browse their site (where else can you get a "Nixon in 2020" t-shirt?).
If you are a gift cataloger, stop thinking so one-dimensionally about your products, and think about how you can turn that great new t-shirt with the Walt Whitman quote into a phone case too.
Not In 100 Years:
Is this good catalog upselling, or foolishness? I spotted the item below in the Garrett Wade catalog, and then checked it out on the website. It's a standard kerosene lantern. I have similar lanterns that have been in my family for more than 100 years, and which I have used repeatedly every summer for the past 50+ years. In all that time, I have never had to replace a wick.  But, Garrett Wade offers 10 replacement wicks for $5.95. Unless you were living in a bunker, and needed to use this lantern pretty much 24 hours a day, I can't see why you would ever need so many replacement wicks.
Was this just great upselling on the part of the merchant? ($5.95 for 10 wicks is actually a good deal). Was the merchant hoping that the average person buying a kerosene lamp would not know that they didn't need that many wicks? Or did the buyer himself not know that?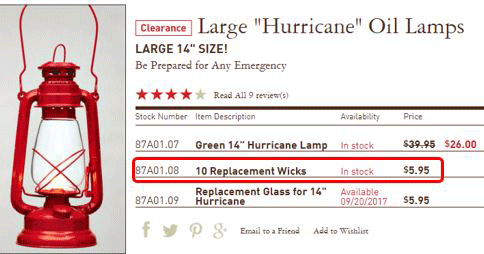 I'm not going to give Garrett Wade too much grief on this, as they do something that most of you don't do, which is an absolute missed opportunity for you. Right below the offer for the lamps above, they have a link to a video on how to use the lamp. (Ok, maybe if you don't know how to use a kerosene lamp, you might think you do need 10 replacement wicks).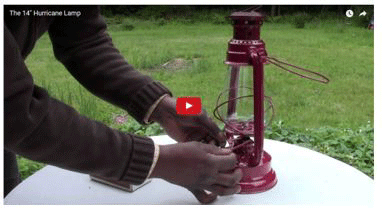 The video is 1 minute long, I can tell it was not "professionally" produced, but it shows the product in use, and is actually pretty good! It sits right on the Garrett Wade website, so doesn't send me off to YouTube to watch. Why aren't the rest of you producing similar videos to showcase your products? Think about how much time people watch videos on their phones – video enhances the sale. You are too concerned about "getting it right", or that fact that it will look "homemade". So what? It helps sell.
My only concern with this particular video is that it fails to do any selling – while the guy is filling the tank, he could be telling the viewer how well built it is, that it won't rust, it will last 100 years, etc.  Consumers still need to be sold. Don't squander the opportunity. Always Be Selling!
As My Mother Would Have Said – "What Gall!"
I love my local daily newspaper (The Keene NH Sentinel). But over the 30 years I have been a subscriber, the paper has announced a number of "editorial" changes, which you could tell were only meant to keep the presses rolling. A few years ago, they announced they would no longer devote as much space to national and international news. Then sports reporting was cut back, and of course like all newspapers, there are no longer any classified ads in the back.
The kicker came this week via a letter they sent to all subscribers announcing a price increase coming this fall. The best part was this statement: "Due to the size of our premium Thanksgiving edition, there will be a $1 surcharge for this Premium Edition".
This "Premium" Thanksgiving issue, which actually comes out the day before because the paper does not print on Thanksgiving, is all ads and FSIs. Sure, there are a few extra articles on alternate ways to cook a turkey, or the joys of a vegan Thanksgiving, but beyond that, it is all ads. So, for the pleasure of getting a ton of print ads for which the newspaper is already being paid, my newspaper is now going to charge me $1 extra. What gall!
But, hold on! Can that concept be applied to your catalog? Most catalogs have always had a vendor co-op program where you charge vendors a token amount for appearing in the catalog. What if you took that concept further and charged the vendor the full cost of appearing in the catalog? What if you paid for the entire catalog this way? I know many of you are thinking "Bill has no idea how hard this would be", or "that won't work for apparel catalogs".
Don't think in terms of 64 pages. Think in terms of 8 pages. What if you got an eight-page catalog completely paid for by a vendor(s)? You could prospect pretty deep if the marketing cost was $0. And, think about this – just as you are getting hammered by Amazon, many of your vendors are feeling the pain of all the retail store closings. They are looking for new markets, and may very well be receptive to helping you, if you grant them exclusivity, or if you agree to promote a new line which they are testing.
Oh, I know – you can't do this because it would interrupt the flow of catalogs you already have, and potentially cannibalize sales from your Holiday 2 drop. Stop thinking that way. Think in terms of using a vendor-paid-for mail piece as a way to drive consumers to your website. The more baited hooks you have in the water, the more you will catch.
If you are not already signed up for emails from this blog, click here.
by Bill LaPierre
VP – Business Intelligence and Analytics
Datamann – 800-451-4263 x235