Overton's 301 and a Way of Discovery
Yesterday, NASCAR held their annual July race at the New Hampshire Motor Speedway. It was the Overton's 301, with boating cataloger/retailer Overton's acting as the race sponsor.
Yes, NASCAR does venture into New England twice a year – there are a few stock car race fans north of the Mason-Dixon Line. If you hadn't noticed, there are only a few drivers left that hail from the South, which is a huge change from when I was a kid. Back then, all the drivers sounded like Richard Petty.
Is this a good match for Overton's? Well, the race takes place in New Hampshire's "Lakes Region", and the big lakes in Maine, Vermont and the ocean are only an hour or two away. So, they are in the right place, during the right season, with the right audience. And they are following the lead of Bass Pro Shops and Camping World, two other retailers/catalogers that have sponsored NASCAR races for years.
Was Overton's taking catalog requests at the race track? Probably not. At an event like this, which is New Hampshire's largest public event of the year, you are going for name and product exposure only, if you are the sponsor.
Let's look at this sponsorship from a different perspective. This past week, Amazon held their annual Prime Day, and raked in billions of dollars in sales. Tough to compete with that if you are a single title catalog. But can you at least grab some attention? No one left yesterday's NASCAR race without knowing that Overton's had something to do with boats. They grabbed some attention, and built some brand awareness. Time will tell if it was worth it for Overton's.
Early next month, during the annual motorcycle rally in Sturgis, SD, cataloger J&P Cycles will be one of the major sponsors of the event. Another example of a cataloger going beyond their traditional method of mailing "co-op segments" to grow.
So, how do you, as a single title catalog, grab some attention? You need some help from your friends. Think about how this industry grew years ago, back before the co-op catalog databases. You exchanged customer lists with your closest competitors, and lots of other mailers. Some of those other companies were "friends", and others were "competitive enemies", but you still exchanged with them because that was how you grew. There was cooperation on a giant scale.
Years ago, when I worked at Brookstone, and was a Board member of the VT/NH Direct Marketing Group, I coordinated a giant cooperative package insert program for catalogs within the group who were located within the two states. It was called "Get A Taste of Northern New England", and featured a profile of about 20 catalogs, with the address where you could write to request a catalog (this was in the Dark Ages before the internet). Each participating company inserted these "brochures" into outbound packages, giving exposure to the other participants. As the largest participant in the program, Brookstone ended up distributing more than 50% of the pieces, but we looked upon this as our civic duty (partly because we still felt guilty about moving our catalog distribution center out of New Hampshire to Missouri!)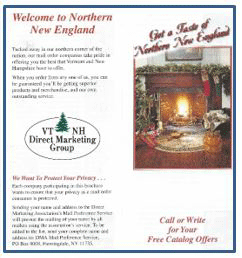 In today's world, you do not want to generate catalog requests. You want to get consumers to remember that there are still catalogs in business, and for those consumers to visit your website immediately. How do you do that?
Here's an idea. What if the catalog "industry" arbitrarily called November 1st National Catalog Day? A cataloger in each state could host their respective governor in the call center, maybe even let the Gov pick/pack and ship an order. Great photo ops. Would it grab some attention? Yes. As much attention as Amazon Prime Day? No.
But are you just going to sit back and let your catalog wither? Wouldn't you rather seek some help from your friends?
Since the DMA's Catalog Conference disappeared, there is no place for catalogers to meet on a grand scale. There is little personal interaction with your peers at other companies, because you don't even know who they are. Who are your friends? Mostly vendors. Let's just pick a few big companies like LSC, Quad, Dingley, Abacus, Oracle, Wiland, and UPS, all of whom depend upon the growth – nay, the survival – of the catalog industry. They are friends to all of you. Collectively, they must work with every B2B and B2C catalog in the US, and in many cases, catalogs beyond our borders as well.
What if they got together and sponsored a few TV ads during the NFL games on the Sunday before November 1 promoting National Catalog Day? Or blanketed YouTube with ads during the last week of October promoting National Catalog Day. Every time someone viewed a Beach Boys video or Annette Funicello video (those would be the right demographics), they'd be targeted with the catalog ad. The ad could provide a link (ooh, better yet, maybe an app!) that brought consumers to a listing of every catalog that wanted to participate – free of charge.
As an industry, catalogs need a way of discovery for consumers. You need to provide consumers with a way to collectively find you, because if you are a single title cataloger, it is getting more and more difficult to survive without the help of your friends.
I, of course, like to think that Datamann is your friend, even if you are not one of our clients. We supply you with this blog on catalog trends – free of charge. We sponsor our catalog seminar for the VT/NH Marketing Group every March that is open to all catalogers. Datamann wants to see the catalog industry survive and grow. But it is time for more cooperative efforts with your friends, because you can't do it alone.
If you are not already signed up for emails from this blog, click here.
by Bill LaPierre
VP – Business Intelligence and Analytics
Datamann – 800-451-4263 x235