Early Summer Catalog 2017 Observations
Getting Smaller
During the last week of June, I received seven "mini-catalogs" on the same day. Each had a slightly different height and width, though none were tall enough to be a traditional "slim Jim." They were smaller, about the size of a digest catalog (5 ½ X 8 ½ up to 6 x 9). The one from TravelSmith was 52 pages, but the others were more of a glorified brochure, folding out to six to eight panels/pages. I had also received one earlier in the month from Scientific Direct for Father's Day, which was a 16-page digest size with a small selection of appropriate gifts.
None of these came from Datamann clients, so I can't report that these are setting the world on fire with response and new customer acquisition. But, they are examples of what I have long advocated in this space – mailing smaller, targeted pieces to more consumers/prospects. Throw more hooks in the water and you increase your chances of catching a fish.
Yes, I know that postage would cost the same if these mailers had mailed 48, maybe even 64 pages. I know that some of you think it ludicrous to not take advantage of that.
But, let's look at this example below from Great Courses. They sell "educational courses" which are primarily intended for lifelong adult learning. For example, they have a course on the American Civil War, taught by a professor at the University of Virginia, comprised of 48 30-minute lectures. You can download the video, or buy the DVD.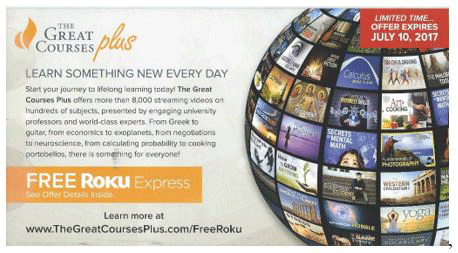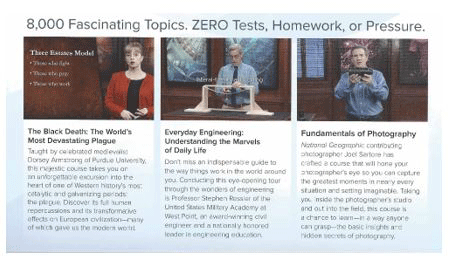 I don't have a copy of one of their catalogs, but in the past, they have mailed me what seemed like a 100+ page course catalog. Since my interest would only be American History, about 95% of that catalog was wasted on me.
But here is the more important point – according to the six-panel "mailer" I received in June, they have over 8,000 courses. How could you ever do justice to a product library that extensive by mailing a catalog, unless it was at least 100 pages long? You can't.  The alternative is to mail a flyer intended to get you excited enough about their products to go to their website. I think their piece did a great job of that.
Garnet Hill mailed my wife an eight-panel mini brochure of school backpacks. Again, I think it is a great piece, and it would make no sense to burden this piece with additional products (kid's clothing), even though the postage would be "free".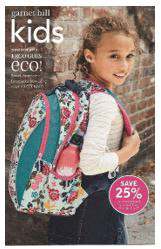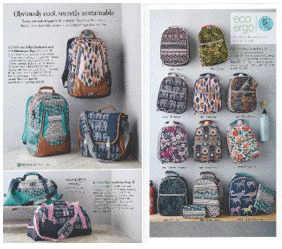 The reason? The focus here is on backpacks – and the offer is targeted. It makes Garnet Hill appear as an authority on backpacks, certainly sustainable, eco-friendly backpacks. Of course, they need to work on their targeting a bit more, as our son is 17 and will be a senior in high school next fall, but that's a topic for a future blog.
These companies are testing new formats, new sizes, new page counts, new product assortments. They are trying new things to survive because many of them found that they can no longer afford to keep mailing the "old-school way". What are you doing differently?
Who are you? Is this spam?
Working for a computer service bureau company like Datamann, our IT staff is constantly reminding us of proper internet/email/computer safety. It is probably no different where you work. As a consumer, you start to get leery of anything in your email inbox that looks suspicious.
Last week, I put something in my cart at Performance Bike. A day or so later, they sent me an abandoned cart email. But the "from" was "Customer Service", not "Performance Bike". Ordinarily, I would have deleted this as spam, but the subject line made me suspect that this was intended for me.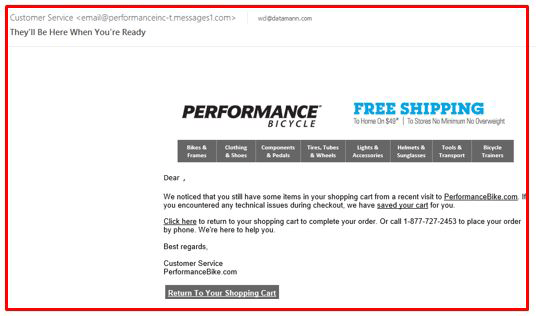 Plus, I have ordered from them in the past. They know who I am. So, why was the "personalized" greeting left blank with "Dear  ,"?  Oh, my – these are such simple things to fix, but which when left unattended, make customers migrate to Amazon.
Catalog Sales:
I did not hear good things about sales for the first half of the year. Many of you, and not just Datamann clients, reported soft response for most of the winter, spring and early summer. And if the 40%, 45% and even "50% off everything in the catalog" discounts that I saw the week of July 4th are an indication, some of you had a very soft first half.
No one can quantify overall response and give a blanket statement that "sales were down by 8%" over last year. Some of you actually did better than plan and last year. But here is something to think about for those of you that were soft:
The economy is doing generally well, with the stock market continuing to gain in record high territory;
Gas price are low, and even dropping (at least they are here in New England) as we enter summer, which is traditionally when gas prices increase;
Except for some hot weather in the southwest (but it was a dry heat), the weather has been mostly "typical" nationwide;
Yes, there is some political drama playing out in Washington, but no more so than usual. There have been no national events that distracted the nation's attention to the point of where consumers froze in place;
With thousands of retail stores closing nationwide, you might think that catalogs – even your catalog – would benefit from the reduced shopping opportunities at the local level.
With all these advantages piling up, why is your response soft? Go back to the question I asked at the beginning of this piece – What are you doing differently? If you are simply following the same pattern of mailings, throwing in some retargeting, testing a new co-op segment and more PPC – that's not enough.  You need to change the whole dynamics of your business to drive catalog sales. That is what we will look at over the rest of the summer.
If you are not already signed up for emails from this blog, click here.
by Bill LaPierre
VP – Business Intelligence and Analytics
Datamann – 800-451-4263 x235