No, I Bought A Different Brand
A few weeks ago, I wrote very favorably about the B&H catalog, and their 330-page behemoth of photography equipment, which added editorial pages sprinkled throughout the catalog on how to pick the right photo equipment. At less than 5% of the page count of the catalog, this is by no means a "magalog", which typically devote at least 50% of the space to non-selling editorial or "lifestyle content".
It is easy to see what B&H is doing – they are trying to differentiate themselves as the de facto place to go for photo and video information and by extension, for purchasing that equipment. But, here is the problem that I see: I purchased a Nikon camera from them a year ago. I have subsequently purchased a few filters for my existing Nikon lens. It's pretty clear, I'm sticking with Nikon.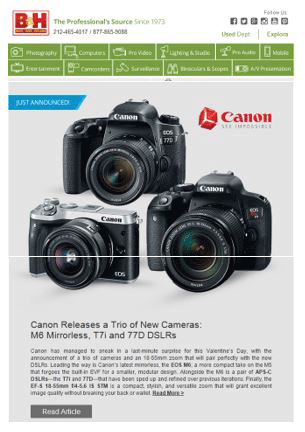 But, they keep sending me emails for all kinds of other products from other brands, including the one received this week for Canon cameras. To me, this says one of three things:
Like many other catalog companies, they probably have antiquated legacy systems which prevent them from doing any finer segmentation of their emails by product;
Or, upper management may not see that as an issue because they probably rationalize that "Hey, we don't want to miss a sale because someday you might decide to buy a Canon".
Or, they are incredibly unsophisticated, and don't want to bother with any segmentation, because it is still easier and possibly even profitable, to keep blasting the same email to all customers, for a catalog with thousands of SKUs.
Further, they have failed to send me any "specialty" catalog of just Nikon equipment. My camera has lots of bells and whistles, many of which I'm still learning. They could be sending me a small, targeted 24-page catalog of just the accessories that are right for my camera. I'd look at that!
I don't need the 330-page encyclopedia, which is quite frankly, pretty intimidating. I need a targeted (dare I even say "curated") collection of just the products for my camera. I didn't buy Canon, or Sony, or Hasselblad – so quit sending me the stuff for which I have no use.
Some of you might be thinking that maybe there is not enough margin in doing a specialty book by camera brand alone. I don't think that is the case, but let's assume it is – they could at least do a mini-catalog of lenses, or camera cases. It would have to be more productive than sending the 330-page tome once a year.
Why is this a big deal? B&H has an edge at the moment, based on its photographic knowledge, great customer service, reputation and depth of product assortment. But none of that matters, does it?  The reason – there's someone out there – maybe Amazon, maybe some company that is yet to be heard from – that is going to realize how big B&H is from a sales perspective, and will take them out by using data, targeted advertising with advanced CRM, and a bunch of other sophisticated tools.
And it isn't just B&H. It is every other catalog company (B2B and B2C alike) that is failing basic catalog marketing by becoming more targeted, more focused. I'm a consumer that is tired of being ignored – I want to be recognized for what I need. Sending me 330 pages of products, only 20 pages of which are applicable to my needs, is no different than going into a retail store and being ignored by the sales staff. You may have a million SKUs, but someone else is going to figure out a way to be more relevant to me. Good intentions are no longer enough.
If you are not already signed up for emails from this blog, click here.
by Bill LaPierre
VP – Business Intelligence and Analytics
Datamann – 800-451-4263 x235