Spring 2017 Catalog Observations
Don't Assume:
One of Datamann's clients did a "free shipping" test this spring. We split their circulation on one mailing down the middle – half received a free shipping offer on the catalog cover, half received no message. The results? NO DIFFERENCE in response.
You can speculate on all kinds of conclusions from these results. But here is what I want you to focus on: I often hear from readers telling me that something I wrote about in this space was just plain wrong, based on that reader's experience. That's fine – I don't mind being challenged, and certainly appreciate being told when I'm wrong. But bear in mind, except in those instances when I offer my opinion, and I always label it as such, I'm citing fact, usually based on something which has happened to at least one or more of our clients.
Two years ago, if someone had told me that a free shipping offer would have zero impact on response on a mid-ticket offer, I probably would have said that couldn't be. But, as we have seen this spring with all of the store closing announcements, consumer shopping habits are changing. Preconceived notions and long-held beliefs of what works and doesn't work in cataloging are often no longer valid. Don't assume you have all the answers, based on your experience. What may seem like an ironclad rule, because it still applies to your customer's behavior, may not be true elsewhere. Keep an open mind.
Better Paper:
Back in March, I provided my thoughts (click here) on how the USPS's change in the piece-rate weight threshold from 3.3 to 4.0 ounces may not be as great for catalogers as others thought it was. One outcome I predicted was that mailers would succumb to the siren call of using better paper – and they have!
I don't maintain a database of which catalogs are mailing on what paper, or even whether their page counts are going up or down. But, as a more than casual observer of the catalogs I receive as a consumer, I have noticed a "significant" number of catalogs switching to higher grade and textured paper.
That doesn't mean that you should. Maybe you can get a discount on that other cataloger's old paper that he isn't using, because he went to a higher grade. But, as evidenced by the shipping test I mentioned above, don't assume that better paper is indicative of providing you a better response. That's why we test.
Adding Editorial Pages, B&H
I was a "digital camera" hold out. I had a Canon AE-1 film camera which I bought in 1978 that lasted right up until about 5 years ago, when I switched to using an $80 digital camera from Wal-Mart. But I longed for a digital, full-frame Nikon.  Last year, when I sold my backhoe to my nephew, I used the proceeds to get my dream camera from B&H Photo. If you are unfamiliar with B&H, they are reportedly the largest camera and photographic equipment dealer in the country – and they have a catalog.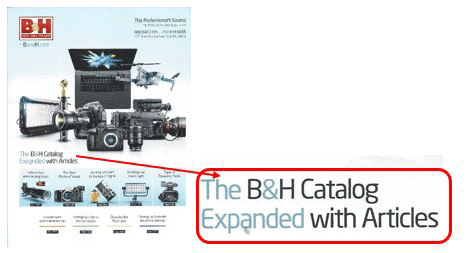 The catalog which I receive from them is 330 pages. I noticed a callout on this month's cover stating "Expanded with Articles".  They have always had a few pages dedicated to "information" on products, such as how to pick the right lighting, but they expanded that concept this issue with many more pages.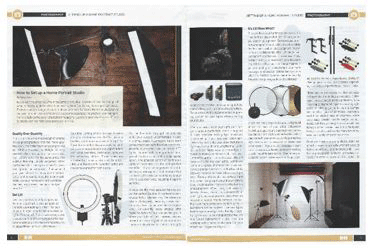 This is NOT a magalog. This is a product dense catalog, with about a dozen spreads offering technical explanations and advice on some of the major product lines. Professional photographers would already know this stuff, but it is great for a novice like me. My only concern is that the information provided is often only cursory in nature, and still not detailed enough to help determine specifically what I need. But this is OK, as it at least gives me an idea of the questions to ask when I go to their website, or when I call their customer service.
This is what sets B&H apart. Sure, you could use their catalog to find products on Amazon. However, B&H customer service staff are waaaaay beyond being order takers – they are technical experts in photography. I know this reads like a commercial for them, but I AM a satisfied customer, and they have provided me detailed and accurate advice each time I have called them, far beyond anything I can get at the local Peterborough Camera store, or in any product description on Amazon.
In a 330-page catalog, it can only help to provide some product information, which helps sell. It helps differentiate them from the rabble on the web that does not have their expertise. This is another of those things you must do to set your catalog apart. Don't assume that your customer knows what to do – you have to sell them.
Uline – Keeping the Catalog Industry Alive One Forest at A Time
I received an email in early March from a reader of this blog asking "What's up with Uline?" He was questioning why he, a consumer, had received a 700-page catalog from them.
I can do better. This past week, I received THREE 730-page catalogs from Uline, addressed to my home address. If you don't know Uline, it is a catalog of some general office supplies, but mostly every shipping supply product you could imagine.
They mailed all 3 catalogs to one of my decoy names. They are not names on which I have ever made an order, only catalog requests. Uline's list broker must scour the universe trying to find obscure mailing lists which no one else has used, because I know these particular seed names I have only used in a few places. Plus, there is no way that these would have been caught as duplicates, because of nuances in each address.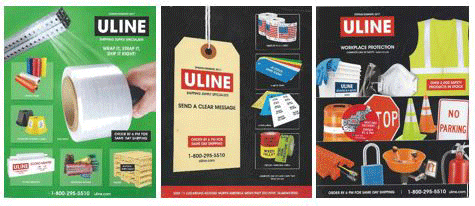 I don't know if they were doing cover tests, although it sure looks that way. But, what bothers me is that Uline mailed 2,190 pages of B2B catalogs to a residential address. Sure, lots of small companies are run from home, but Uline should have used a filter in their merge logic that would only send one catalog to a residential location. If you are a B2B mailer, have you tested this? Do you know the value/ cost of mailing additional catalogs a residential address?
More observations to follow….
If you are not already signed up for emails from this blog, click here.
by Bill LaPierre
VP – Business Intelligence and Analytics
Datamann – 800-451-4263 x235