Don't Worry About The 40X Names, Focus On The 1X Names
Think about what you ask the catalog co-op databases to do. You ask them to find you the best names for your mailings.  Those names are usually buyers at your closest competitor's catalogs. If  I'm the circulation manager at LL Bean, I want the co-ops to give me names of good buyers from Lands' End, Orvis, Eddie Bauer and Woolrich.
In theory, this is exactly what happens. If I have made purchases at all those other companies, I would look like a great prospect to LL Bean. My name would float to the top of every model LL Bean receives from their co-ops.  But, what if I'm just not willing to become an LL Bean customer?
These consumers that are actively purchasing from other catalogs have nothing against you. They are simply comfortable with the companies from which they purchase now. In the apparel world, they know that what they purchase from these other companies will fit, and fit the way they like. They don't need to add another apparel catalog to their fashion mix with the risk of dissatisfaction over an order.
The same phenomenon happens in hard goods and gifts. If I'm strong buyer of Virginia peanuts and Pacific salmon by mail, it doesn't mean that I'm guaranteed to want Wisconsin cheese or Vermont maple syrup, although my name probably floats to the top of models for those other food catalogs as well.
You have prospects like this too. You have a core group of prospects that you mail over and over because they are either good customers with your competitors or with companies close to your product mix.  You either rent these names directly from those companies, or receive them in your co-op models.  But these consumers are never going to buy from you because either they don't need you, or they choose to stay loyal to the other brand. You just keep mailing them over and over.
But, that may not be a bad thing.
Datamann builds and maintains prospect contact histories for our clients, which is a database that tracks the number of times you mailed a prospect name (individual or household) before you finally received an order from that consumer, as well as tracking those that have never ordered.
The report shows the optimum number of times to mail a prospect to get the maximum response rate, but more importantly, it illustrates the point at which it is no longer profitable to mail that prospect name. You can suppress these "over-promoted" names from future mailings, as well as send them to the co-ops to have them suppressed from the files you order.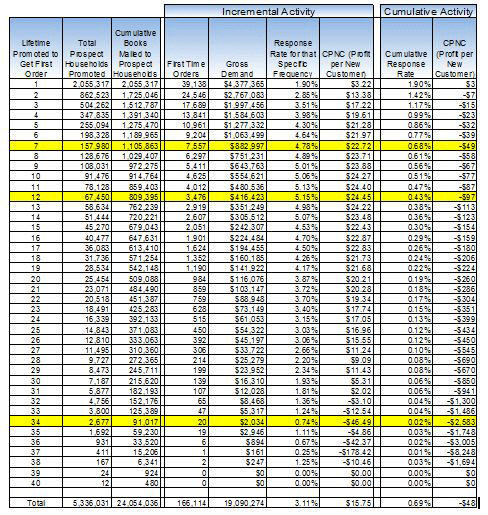 Every client for whom we produce these reports uses them differently. Further, every report we produce has vastly different patterns of response. In the sample report above, there were 67,450 prospects mailed for the 12th time in five years (not consecutively). 3,476 of those prospects finally responded to their 12thth mailing, generating a 5.15% response rate for that group of names – not bad. We always see that the response builds over time, but where it reaches the maximum response differs widely. For some mailers it may occur on the 5th mailing. For others the highest response rate may not be achieved until after the 20th mailing.
It is always shocking for some mailers to see that they have prospects which they have mailed 20, 30, and sometimes 40 times, without ever placing an order. Some mailers thought they were always getting "totally fresh names" with each mailing. But think about this – the co-ops are doing what you asked them to do – which is send you the names most likely to respond, which would be those buying from your competitors. The co-ops are not coordinating with each other to say "Oh, I sent that name last time, so you shouldn't send it this time." However, this is not necessarily a bad thing.
If you are a longtime reader of this blog, you know I'm not a big fan of the co-ops. It would be great if they could identify those buyers that are extremely loyal to your competitor's brand, who are unlikely to ever buy from you, and not send them to you.  But in this case, I'm not sure they ever could, or that you want them to. You need to determine how to structure an offer to these names that you have mailed 20 times, or 40 times, to get them to buy from you. What's it going to take to get them to buy from you?
Look – this is not rocket science.  The co-ops are NOT analyzing 320 million US residents, sifting through tiny bits of data that reveal a fresh new consumer that no one has ever mailed before, who is destined to become your greatest customer ever. No, if the co-ops are doing their job correctly – meaning they understand who your customer is – then they should be sending you these top prospects that are actively buying from your competitors over and over. Those are the names with the highest propensity to convert to being your next new customer. The problem is that this scenario repeats at every other catalog company too. The catalog that raises their game and determines how to appeal to these active prospects/consumers will be the winner.
Here is the bigger issue I see. Look at the top row – the 1X names. Every time we create this report for clients, we see a similar pattern. The 1X names are two to three times greater than the 2X names. Overall, the 1X names are 38% of the total quantity of names this mailer has ever mailed. Doesn't that seem odd? The co-ops are supposed to be giving you the best names. They "model" what they send you. You are supposed to be getting the best of the best. That would mean you should be getting more of the same names more often.
But, almost 40% of the time, the co-ops sent you a name that they subsequently decided was not worth sending you again. Those are the names you need to focus on. Were those "filler" names that the co-ops gave you to get your quantity up? When you are planning your Fall and Holiday circulation this year, ask the co-ops their strategy on giving you names only once vs. multiple times.
Here is another aspect of this report. Let's assume this mailer is willing to generate a loss of $45 in profit to acquire a new customer. On an incremental basis – looking at each mailing as an event unto itself – this mailer does not reach this threshold until the 34th mailing.  But, what if you looked at this cumulatively? Go back to the 12th row. You did not just mail 67,450 names to get those 3,476 orders.  You mailed 809,395 catalogs (12 x 67,450).  If you include the cost of all those additional catalogs mailed to get those first orders, you actually lost $97 in profit (far right column).  You would attain your allowable profit per new customer (-$45), measured cumulatively, on the 7th mailing.
Should you stop mailing after that 7th mailing? It depends on how you view your "sunk cost" of those cumulative mailings. Most of our clients want to continue mailing prospects as long as it remains incrementally profitable to do so. However, some want to include those "cumulative expenses" in their lifetime value calculations to determine if a customer that required 40 mailings from you to make their first purchase, was really worth it in the long run.
Datamann's Prospect Contact History is easy to implement, and provides you immediate return because in most cases, there is no testing involved. Your accumulated mailings over the past 5 or 6 years are the actual testing grounds where you mailed all those prospect names. As long as we have your old mail files, we can build a similar database for you. Contact me for details.
If you are not already signed up for emails from this blog, click here.
by Bill LaPierre
VP – Business Intelligence and Analytics
Datamann – 800-451-4263 x235