You Can Ignore Most of It
This week marks the fifth year anniversary of my starting this blog at Datamann.  I'm going to use the occasion to share a brief personal observation that relates directly to catalogs.
I received several emails last week from readers who agreed with my comments that their catalog could get along just fine with "less perfect" photographs and design. These comments were from the marketing and circulation people who are trying to stretch their budgets, and actually have some money left over to mail the catalog after the creative department has spent a big chunk of the budget on up-front fixed costs like photography and design.
Here was one comment: "Could not agree more that we could get by with 'good enough' photography. However, when this is suggested to our creative team, they lose their minds. Any suggestions on how to overcome that?"
Well, let's try this.  Let's say you were acquired by new owners, and they mandated that the budget for new photography be cut by 70%? What would you do? Some people would simply throw up their arms and say "You'll kill the catalog. You don't understand! We can't just photograph this new light fixture in any old setting; it has to be done in just the right location, with at least three models, and a dog." Others, who realize that they have to live within the confines of this new reality, would take some action.
The question becomes, what is important, and what is just noise?
Most of the readers of this blog are unaware of the fact that I am almost deaf.  Most of you have never met me, and if you have, unless you notice my hearing aid, you are probably unaware of the fact that I can't hear a word you are saying if we are in a crowd.
Ten years ago, I contracted an illness which left me completely deaf in one ear, and with only 40% hearing in the other, which gets increased to 70% with my hearing aid. So, I have about 20% of the normal hearing range that most people have.
What does this have to do with catalogs? Everything.   You see, I have learned to get through the day by ignoring much of what is going on around me, because I can't hear it anyway. Your customer does the same with your catalog.
In one-on-one situations, I'm OK. Even with three or four people in a room, I can carry on a conversation without too much difficulty. The worst situation is a large crowd – like the coffee break at a crowded conference. You can be standing right next me and practically yell into my good ear, and I can't tell what you are saying.
I know I'm probably going to get in trouble for saying this, but I've learned that 90% of what most people are saying in situations like that can be ignored, and no one can tell that I'm not listening to them. I can tell when someone is asking me a question, because the tone of their voice changes. I can hear a change in frequency and tone, although I don't know what is being said. So when I detect that someone is asking a question, I lean in and ask them to repeat it. Otherwise, I just stand there and smile and nod. Most people just think I've become more agreeable in the past ten years.
Your customer does the same thing with your catalog. They are browsing it. They are flipping through looking at products. They want to see that you have the product knowledge and authority to sell this product. But they are ignoring most of it.
I used this spread (below) from the Cabela's catalog last fall in a posting on hunting catalogs. They used one lifestyle photo on the spread to show they had "authority" when it came to selling cold weather gear, but the rest of the product photos are all lay-flat studio shots. I know some catalogs where every item would have to be a lifestyle shot. Is that necessary?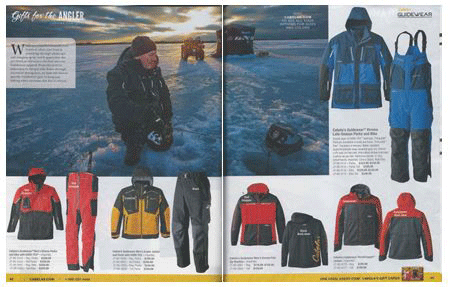 The problem is that many catalog creative directors, and merchants, insist on a specific and consistent "look, feel, and theme" to the catalog, to convey a lifestyle, or as Kevin Hillstrom calls it, your "Unique Point of View".  And there is something to be said for having a "unified" creative look to a catalog.  But everything does not have to be perfect. In my opinion, sometimes when everything looks "too perfect", your catalog has the same appeal as a mailer from Verizon trying to get me to switch phone plans.
Stop thinking that your customer is curling up in front of the fireplace with a glass of wine to read your catalog – and only your catalog – cover to cover. If that ever did happen, it hasn't happened in the last 10 years. Your customer has a thousand things going on in their life. Media is on all the time. Some will argue that this exactly the reason that you should, YOU MUST spend a ton of money and time on truly exquisite creative, that will standout and catch the reader's attention.
But here is where my deafness comes in. "I have learned to get through the day by ignoring much of what is going on around me, because I can't hear it anyway. Your customer does the same with your catalog." Your customer is motivated by your merchandise. Your merchandise is your brand. The depth, variety and diversity of your product assortment are what will drive a response. Truly creative people can develop effective and affordable creative, that provides a "unique point of view", but which puts focus on the merchandise, and how that merchandise meets the customer's needs.
This is separating the noise from what is important. To answer that reader's question from last week mentioned at the beginning of this posting, my suggestion is to pose a challenge to the creative folks and the merchants. What can they do to create a truly unique looking catalog, that drives response, and can they do it spending 50% less than what is budgeted? Anyone with some basic talent can spend a fortune on designing a catalog that is "perfectly" photographed, and properly executed. That's no challenge. That's just doing their job. Moreover, it is creating a catalog that is similar to thousands of other catalogs that have come before it.
The challenge to everyone – including the marketing and circulation team – is to ALL work together at developing a merchandise and creative direction for the catalog.  Creative, merchandise and marketing cannot work independently of each other. Their over-riding goal – what is important, and not noise – is to develop something that drives response. Unique creative does not have to be expensive and perfect. It has to be unique. That's why it is called "creative". Everything else you can ignore, and you'll still manage to get through the day just fine.
By the way, if you have not visited the Datamann website lately, it was recently redesigned, with a new format for the blog that allows you to search on my last five years of musings. (Click here to visit Bill's new blog site). Awesome stuff!
If you are not already signed up for emails from this blog, click here.
by Bill LaPierre
VP – Business Intelligence and Analytics
Datamann – 800-451-4263 x235