The Magnum PI Look Is The Giveaway
Why do you always aim for perfection instead of change?
At last year's Datamann catalog and ecommerce seminar, which Datamann hosts and sponsors for the VT/NH Marketing Group, the local chamber of commerce in Concord, NH had a pile of the magazine pictured below in the conference center lobby.
Do you notice anything wrong?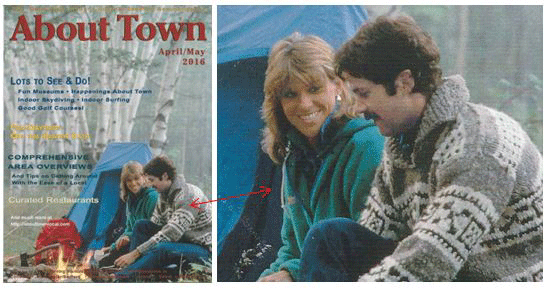 Look at the guy's sweater and his mustache. Look at her hair cut. This photo is from the late 1980s!
Because I worked next door to the Eastern Mountain Sports headquarters in Peterborough, NH for more than 20 years, I recognized the photo immediately as being from an EMS catalog from that time frame, 25+ years ago!
This is not an isolated occurrence or problem. Almost every catalog is guilty of it. I see many of you using the same photos in your catalogs year after year. Usually, you don't have models that have a "dated" look, but some of you do. (Do most women wear eye shadow and earrings when they go camping?)
If your response is lagging on some products that used to do well, take a count of how many consecutive times that product has had the same photo in your catalog. I've seen instances where the same photo appeared more than 100 times consecutively, with no changes! Of course, not only does the photo not change, but the headline and copy block often remain unaltered for years as well.
I'm going to refrain from showing examples of this, as it would become a game of "gotcha". There would be little value to readers to embarrass those you that fall into this trap. But, you know who you are, and if is response is lagging – change it up a little.
The reason that most of you do not do more photography is that you want perfection. As an industry, we spend a fortune on new photography. Only a few of you do what I call "make do with good enough" photography.  Sure, you can't rely on your cell phone to take product pictures, but do you really need to bring in an outside photographer, a lighting technician, a stylist, and a model to shoot a sweatshirt? Or a lawn sprinkler?
You still look upon your catalog as being something for which the Library of Congress is waiting. Even though you know that Catalog Age magazine is not around anymore to give you an award for "Catalog of the Year", just in case someone else is, you don't want to be marked down for any photography that is less than perfect. And of course, perfection is expensive. So, you stick with the same photo that has been used 100 times (literally) before because you can't afford to shoot a new one.
But here is what is so puzzling to me. You won't shoot your own stills for the catalog or website, but you are willing to shoot your own video, of your latest "behind the scenes at our company", and post it to YouTube, with minimal editing, minimal changes, and certainly, no "professional look".  You agonize over catalog photography and models, but will throw anything on YouTube.  I actually agree with getting videos on your website and YouTube frequently and cheaply.  I'm puzzled over the continued striving for perfection on static photography.  What's wrong with "make do with good enough"?
Let's try a test. Instead of doing yet another useless cover test, let's do a photography test. Unless you are a high-end fashion catalog with a $500 average order, try having someone in the creative department use their own camera (not a phone) to shoot a few products in the next catalog. See if sales fall off dramatically for those products if you don't go for "perfection" but instead go for "change".   Change is good.
Your customer may not have the historical memory that I do, but they recognize when they have seen something repeatedly. That's when they stop opening your catalog at all.
This year's seminar – which is now only three weeks away – is not about catalog creative per se. But it is about the need to change, the need to evolve. If you have not already registered for the seminar, click here to visit the VT/NH Marketing Group's website.
Registration costs for this all day event:
$135 for VT/NH Marketing Group members
$200 for non-members
Registrations are accepted until March 28, 2017
If you are not already signed up for emails from this blog, click here.
by Bill LaPierre
VP – Business Intelligence and Analytics
Datamann – 800-451-4263 x235