Press On – Why Coolidge Matters to Catalogs (Really!)
Most of the catalogers that are readers of this blog reported that they had soft sales this past holiday season.   There are many reasons, some of which I have previously reported.
I think Amazon took a far bigger chunk of business from each of you than you probably are willing to acknowledge. Few of you had "remarkable" catalogs – you just keep boring your customers with the same old look.  The catalog co-op databases, your major source of prospect names, are dying.
But what really bothers me, and where I see the biggest problem, is that most of you have given up on new products. You are making no effort to develop, source, find or promote new products. I'm talking truly new products – not just a new color or a new version of an old product.
I don't get it. You know that introduction of new product is the number one thing that will drive sales from both existing and new customers. But you are not taking an aggressive stance to get new products, especially products exclusive to you.  It's almost like you have given up.
This brings us to Calvin Coolidge (30th President of the United Sates, 1923 to 1929), who was born and raised about 20 miles away from Datamann's offices here in Vermont. He was even inaugurated President by his father, in his childhood home, by the light of a kerosene lamp, in 1923 when President Harding died.
As a history buff, a presidential inauguration like the one later this week – regardless of incoming party – is like ten Super Bowls to me. So I'm going to tie a catalog lesson to one of Vermont's native sons – Calvin Coolidge
I'm going to bet that 99% of you know nothing about Coolidge, other than he was quiet, and not a very remarkable president. Much to the relief of many of you, I'm not going to take the time to provide you with an education on his contributions to history – minimal as they were.
Coolidge was a conservative, taciturn Yankee, who prized hard work and independence. One of his few lasting contributions to American history and culture was something he wrote just after he left the White House. When asked what was the most important character trait for success, Coolidge replied:
"Nothing in the world can take the place of Persistence. Talent will not; nothing is more common than unsuccessful men with talent. Genius will not; unrewarded genius is almost a proverb. Education will not; the world is full of educated derelicts. Persistence and Determination alone are omnipotent. The slogan 'Press On' has solved and will always solve the problems of the human race."
Persistence and Determination.  Do you have those two qualities? In my opinion, they alone are the two qualities you need to survive. Short cuts are not going to get you there. Cataloging is no longer for the faint of heart – it can't be. Going forward, the key to having a successful catalog will be the persistent application of aggressive tactics for basic survival. It has no other direction to go. You have to be willing to gird your loins and 'Press On'. The place this most applies to catalogs is the development and testing of new products – you must get aggressive at introducing new products. And when they fail, "press on" and bring in more new ones.
Some of you will think my comments are overly dramatic. You have not yet been tested the way many other catalogs have been, especially this past year. But that time is coming for all of you. Maybe not 2017. But it is coming sooner than you think.
Here is the important thing to remember – your fight must be to find new product and new customers. Your fight is not just with Amazon, the post office, the printers, the co-ops, or even me. Don't waste your bullets on imaginary foes. Your fight is against yourself, and your ability to shake off your old habits and try some new things.
There are no short cuts.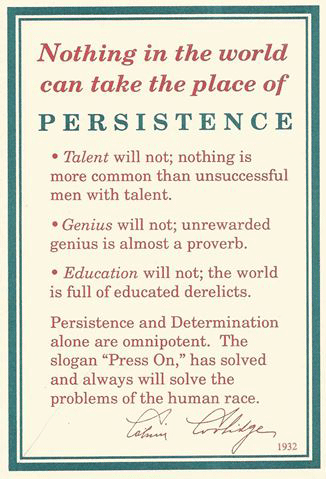 If you are not already signed up for emails from this blog, click here.
by Bill LaPierre
VP – Business Intelligence and Analytics
Datamann – 800-451-4263 x235