Registration is Open and Why I Asked Frank
Registration is open for Datamann's catalog seminar which we are hosting for the VT/NH Marketing Group on March 30, 2017. There is a link at the end of this posting to register.
Datamann clients will be receiving information in the mail next week about registration.
I told you a few weeks ago why I asked Kevin Hillstrom to come back for a third year to speak at our seminar (What Is Missing Is Not Metrics, But How We React To Metrics).   Now let me tell you why I asked Frank Oliver to return as a speaker (he spoke at our first seminar in 2013).
Frank is a merchant's merchant. He loves finding new products. He loves working with vendors to improve and change existing product to make it better. Frank is always thinking about margin, price, competition, and demand. Does the customer want the product? Does the customer understand how the product is going to change their life?
But, I asked Frank to do something different this year. I did not want him to come and speak again on what metrics a good merchant needs to know. I did not want him to talk about challenges in finding new products. That is pretty standard, boring stuff (to non-merchants).
Instead, I asked him to challenge your thinking about merchandise. To talk to you about merchandise insight.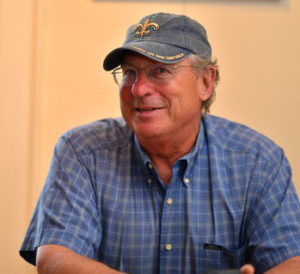 Frank believes that good merchandise and presentation analysis for merchants (maybe not for marketers or accountants) is about insight, which is typically not part of the robotic decisions made by traditional square inch analysis which so often kills new products before they have a chance to succeed.
According to Frank "merchant insight can only come from good trend and cross campaign analysis, which the discreet product sales or profit numbers found in traditional square inch analysis, simply do not, indeed cannot address.  To a merchant, 'absolute' profitability and sales numbers are 'meaningless'.  Why?  Because they have no direct relation to whether that product is getting stronger or weaker.  Why?  If marketing spend goes up (meaning more circulation), line item profit goes down, with equal sales…… Did the product perform worse?  How do I trend this data when embedded variables not related to presentation strength are included? Cross campaign analysis simply cannot be done.  So what happens? Merchants start focusing on last year, same catalog, ONLY! They ignore what is happening with the product today."
Frank believes that when merchants manage merchandise by the sales numbers and other standard metrics alone, their catalog ends up with all black pants. The catalog – though efficient – becomes boring, and dies a slow death. Frank is not one of those merchants that believe that if you have enough data, success will ensue, because "trends" are not always reflected in the sales data until it is too late. On the other hand, I have seen and worked with far too many catalogs where the merchants used no analytic tools/reports, simply using their "intuition" to determine which products to keep or omit, and they fared no better in performance.
So, what is the alternative? What is the analysis method that provides merchants that needed "trending insight"? Well, you'll have to register for our seminar, and come to Concord, NH next March 30th to hear Frank.
But there is another reason I asked Frank to speak again. It's not just about insight, it's about inspiration. Frank is tired of seeing dull merchandise, tired of catalog and ecommerce companies failing to show product in a way that excites the consumer. So I asked Frank to debunk the role of Marketing and Creative in cataloging, as only a merchant like Frank can. To Frank, the greatest sin a catalog can commit is to be boring.
And anyone who has ever walked away from one of Frank's session, has never walked away bored.
Over the next few weeks, I'm going to keep providing reasons as to why you need to attend this seminar. Our seminar last year sold out a full month before the event, so please plan on registering early.  Seating will again be limited.
To register for the seminar, click here to visit the VT/NH Marketing Group's website.
Registration costs for this all day event:
$135 for VT/NH Marketing Group members
$200 for non-members
Registrations are accepted until March 28, 2017
The Marriott Courtyard/Grappone Conference Center, Concord, NH is located at 70 Constitution Ave in Concord, NH – just north of the intersection of I-89 and I-93. Special room rates of $119 are available for attendees of the seminar for the night of March 29, if you book your room with the Marriott by March 1, 2017. You must mention your attendance at the seminar to receive the special rates, or reserve your room directly at this special link: http://cwp.marriott.com/mhtcn/vtnhmarketinggroup/
If you are not already signed up for emails from this blog, click here.
by Bill LaPierre
VP – Business Intelligence and Analytics
Datamann – 800-451-4263 x235
Save