The Highlight Reel
We had a break between Amy Africa's afternoon session and the "question and answer" period at last Thursday's Datamann seminar in Concord, NH. While I was getting a few things set for the last session, Brenda Royce, the Director of Ecommerce at Garnet Hill came up to me and gave me a big hug and exclaimed "this is the absolute best seminar I've ever been to".  I heard that from several people, but Brenda is one of the most reserved New Englanders I've known – so to see her animated, I knew we had succeeded in getting it right.
Here are the highlights for those of you that missed our seminar, as well as a review of several key thoughts for those of you that were there.
NO 28 Things: Amy Africa told the audience how I had given her the latitude to present whatever she wanted, as long as she stayed within the confines of my request that she not present a list of 28 Must-Dos for your website. And she didn't. Instead, she painted a picture of the hundreds of new technologies that ecommerce companies are utilizing to completely change the way consumers shop. These move waaaay beyond what the typical catalog's website currently offers, and once again show how we are not only obsessed with our catalogs, but obsessed with our static websites. Her predications on the impact of voice search illustrate the risks that even the most advanced catalog websites will have difficulty coping in the near future.
Our clients are always asking for generic industry benchmarks by which they can measure themselves against the rest of the pack. Amy presented one that I know most consumer catalogs are failing at – Amy believes mobile phone number capture rates should be at least 30% on your customer file now, with that number increasing in the next few years. How many of you can even say that you have 50% email capture rate on your 12-month buyer file now? Capturing mobile numbers, let alone being at 30%, is just a dream for most of you.
Hitting the Wall: Kevin Hillstrom illustrated how his feedback loops are accelerating the death of traditional catalogs, by making it more difficult and more expensive to prospect for new customers. Moreover, the ecommerce companies, which grew by cannibalizing sales from catalog companies, are now also having difficulty acquiring new customers. Our reliance on co-ops has created a vicious race to the cellar.
Q&A: I was afraid I was going to lose the audience at 3 PM after Amy's presentation. There was a half hour break, snow was in the forecast, and it was getting bitterly cold out. People wanted to get on the road.   But they stayed. They stayed for one of the best Q&A sessions I've experienced.  I felt like young Luke Skywalker standing between Yoda and Obi Wan. The three of us fielded questions for an hour and hardly anyone left – we could have gone another hour but I had to cut off the questions.
Judy Kennedy, a former President of the VT/NH Marketing Group, asked the most poignant question. She asked each of the three of us to point out where we found fault in the other two speaker's sessions. Apparently because I was host of the event, neither Kevin nor Amy picked apart my presentation. And they were each complimentary of the other's presentation. It was up to me to end the on-stage love fest by saying that I disagreed with most of Kevin's findings. I don't think he had painted a dark enough picture of where the industry is going, between the damage done to the catalog industry by the co-ops, and the absolutely misguided advice found in the industry trade publications about things like omnichannel marketing.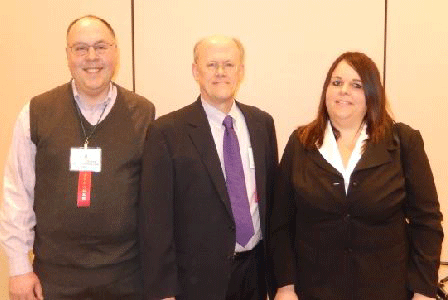 Conspicuously Absent: Speaking of the co-ops, where were they? Of the 188 registered attendees for the seminar, 79% were catalogs or ecommerce companies. For a seminar aimed at helping catalogs and ecommerce companies discover the future, I'd have thought that a few more of the companies that have a vested interest in the welfare of the industry would have been there. Sadly, there were only two printers, one of which was from a small specialty press, And only one representative from any of the four consumer co-ops (thank you Wiland!).
On the other hand, I overheard one attendee say how nice it was to attend a seminar where they were not being sold anything. Let's hope that I can keep that balance in the future.
The Obvious: Ok, the weather was not great. The snow in the parking lot was piled over 12 feet high in spots. And it was cold. But it was cold and snowy everywhere last week in the nation too.
I'm going to explain one more time why this was the ideal location and ideal time. Yes, it might be more appealing to come to NH in the spring or summer. But that doesn't help you execute the moves you must make to grow your business.
Most of our clients – as is true with most catalogs – are heavily dependent on the fourth quarter. Only a few people told me they could not come to our seminar because they were busy the third week of February. This seminar was purposely not another offering of "5 tips to build your brand relevance". Those ideas are not going to help you solve your long-term growth and survival problems.  I gave Kevin Hillstrom and Amy Africa each two full hours for their presentations because you cannot cover the importance of their messages in 45 minutes. They could each easily have used a whole day for their presentations.
February is the best time of year for this seminar because I want to challenge people to take risks and realize they have to make significant changes to survive.  You're not going to start implementing those changes any time after May 1st, when most of you are waist deep in holiday planning. And you won't do them after Labor Day, when you are executing your holiday plan. So that's why I'll see you again next February.
Who Is Looking Out for Your Interests?: Once again, Datamann thanks the VT/NH Marketing Group for allowing us to sponsor this seminar.  I had numerous attendees tell me how refreshing the group was, and how they planned to join.  The group's 27th Annual Conference is May 27 to 29 in Woodstock, VT, and I look forward to seeing more of you there.
If you are not already signed up for emails from this blog, click here.
by Bill LaPierre
VP – Business Intelligence and Analytics
Datamann – 800-451-4263 x235