Africa, Hillstrom and LaPierre
Who is looking out for your interests? Who can you really trust?
I want to invite all the readers of this blog to a special event. Datamann is again sponsoring an all-day seminar for the Vermont / New Hampshire Marketing Group on The Evolving Future of Catalog and Ecommerce Companies on February 19, 2015 at the Marriott Courtyard / Grappone Conference Center in Concord, NH.
Why is this special?
This year, I was fortunate to get two of the brightest and most talented thinkers / writers / speakers in the industry to join me for this event – Amy Africa from Eight by Eight and Kevin Hillstrom from Mine That Data.  They are rock stars in the industry, known for looking into the future of where this industry is going, and the impact the future will have on your business.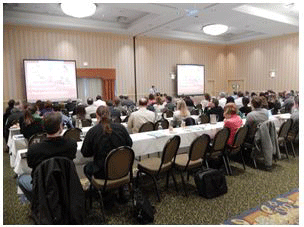 Amy, Kevin and I also share another trait – we never try to sell you something you don't need, and we never try to sell you the latest shiny object. We believe in sticking to the basics – whether it is in website functionality, merchandise performance, or analyzing customer behavior. If you read either Amy's blog
or Kevin's blog (how does he manage to publish daily? – I'm so envious), or this blog, you know that the three of challenge the status quo.  As one of my readers once said "I like it when you poke the bear with a sharp stick". We are the ones looking out for your better interests, and by your continued readership and support, we know you trust us.
I asked both Amy and Kevin to focus on where the average catalog and ecommerce company is headed, and what the future holds – and that is what they will give you. You will get a realistic view of how we got to where we are, and what you'll need to do to push, pull and carry your company along to survive in the future. We will end the day with an open forum, allowing attendees to share their concerns, beliefs and questions on catalog growth and catalog strategies.
Registration details for the event will follow soon. Datamann clients and members of the VT/NH Marketing Group will be getting additional registration information in the next few weeks – but I wanted to let you know about this event early so you could mark your calendar.
The VT/NH Marketing Group has been providing conferences and seminars for catalog and e-commerce companies for 25 years. Datamann is grateful for this opportunity to continue our sponsorship of this event.  For those of you unfamiliar with the state, Concord is New Hampshire's state capital, and is only 20 minutes north of the Manchester, NH airport, which is served by all major airlines. We look forward to seeing you in February.
If you are not already signed up for emails from this blog, click here.
by Bill LaPierre
VP – Business Intelligence and Analytics
Datamann – 800-451-4263 x235