Near Flawless Creative Execution
In our rush to embrace all things related to mobile, omni-channel, and social media, I keep seeing a total disregard for good execution of basic catalog creative elements. Sometimes it is no wonder that 12 month buyer counts are dropping and Amazon is stealing all our customers. Your catalog is still important – don't ignore it. Your catalog is what's paying the bills and driving your sales at the moment.
That's why I'm dedicating this posting to one catalog that had a near perfect execution of catalog basics – the Summer 2013 Gardener's Supply catalog I received on April 26. (Gardener's Supply is not a Datamann client, although we know lots of the folks that work there).
This is their peak season – and they pulled out all the stops to take advantage of that. Here are the highlights: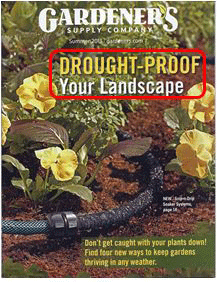 Cover: First, there's no offer or promotion on my cover. There is an incredibly powerful headline (which I circled in red) stating "Drought Proof Your Landscape" (great example of a benefit driven headline). The centerpiece of the cover (although it is hard to see) is a new soaker hose system which you can custom cut-to-length. I applaud them for having the courage to put a new product on the cover. Most of you don't – you play it safe and run the top seller from two years ago.
Inside front spread: The whole inside front spread is dedicated to showing that soaker hose system in detail. They get your attention on the cover, and hit you with the product on the opening spread. That is how you tee up and then meet your customer's expectations.  No wasted space on branding messages or letters from the President. But, they don't need to waste space on that stuff since this product is so great – if you are a gardener. The product is the branding message.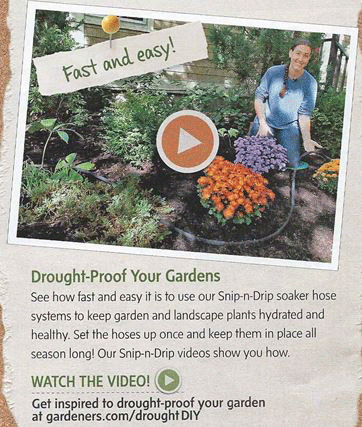 Video: Plus, they have a call out to a video online that explains the system in more detail.  This is a great example of an effective web driver.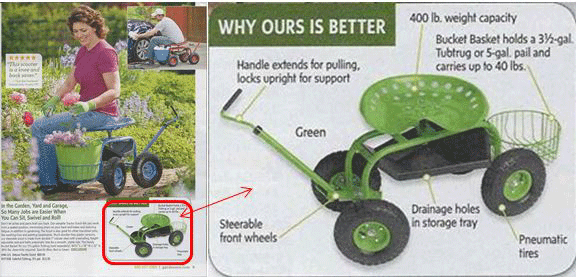 Single Product Page: As much as I like a dense spread with lots of products, I also know that the right product deserves more space. Gardener's Supply has carried this rolling scooter for years. But, they have made improvements to it that makes it unique to them (or nearly unique). By giving it a full page, the consumer can't miss the product or benefits. Plus, they have a great call out explaining why theirs is better. (Why can't the rest of you do more stuff like this?)
Gardeners.Com – instead of asking customers to "like" them on Facebook, Gardener's Supply gives customer hardcore gardening advice and tips on their own website. In my opinion, this is waaaay more important than playing around with other forms of social media – give your customer something tangible.
Unique Product: To beat Amazon, you have to be a great merchant – and Gardener's Supply does that throughout the book, but this page exemplifies what they do so well. First, this is a real raised bed. As I recall, they introduced this last year, and I have yet to see it in any other catalogs. Second, they accessorize it with a greenhouse cover and insect netting – for free! Third, they cross-sell the dirt you need ($11 for a bag of dirt – my god!) for the bed, and the watering system you'll need. All of Amazon's upsell algorithms can't touch that.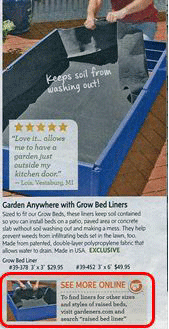 See More Online:  Finally, they have call-outs throughout the catalog calling the customer's attention to "see more products online", as with this line of bed liners. Gardener's Supply understands that you don't have to show every product in the catalog to sell it.
Some of these creative elements may not work at driving response (and I know the folks at Gardener's Supply are disciplined enough to measure that on the back end). But the net effect of these elements is that this is a bold book, showing off some exciting and unique product. Gardener's Supply establishes authority with the customer, which they aren't going to find elsewhere. This is basic creative execution, but done very well. Are you doing the same in your catalog?
If you are not already signed up for emails from this blog, click here.
by Bill LaPierre
VP – Business Intelligence and Analytics
Datamann – 802-295-6600 x235
blapierre@datamann.com